Institute for the Environment Student Research Papers
Students enrolled in the fall semester of UNC-Chapel Hill's IE program at HBS are expected to conduct a guided independent research project, as well as participate in a group capstone project. Each of these projects culminates in a final research paper; these are then compiled into annual IE research reports which can be accessed at the links below. Note that prior to 2007 the IE program was known as the Carolina Environmental Program. The program was not held in 2005, 2019, or 2020.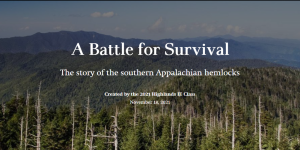 During Fall 2021, IE students took Remote Sensing and Landscape Analysis. As part of their course work they created a Story Map on the Station's hemlock trees. Click here to read it!