Zahner Conservation Lecture Series:
Each summer, the Highlands Nature Center has hosted evening lectures on Thursdays focused on the theme of natural history and conservation, a tradition that began in the 1930s. Today, these lectures are known as the Zahner Conservation Lecture Series – named for the significant contributions of Dr. Robert Zahner and his wife Glenda, of Highlands, to land conservation efforts on the Highlands Plateau.
These lectures serve to educate and inspire the public through a series of talks from well-known regional scientists, conservationists, artists, and writers. The series is made possible by the Highlands Biological Foundation, and from donations from numerous individuals and local organizations.
These lectures feature speakers with expertise in a wide range of topics, and this year they will be held in person at the Highlands Nature Center (930 Horse Cove Rd) each Thursday evening at 6:00 p.m. between June 15th and August 10th. These lectures are FREE and open to the public, no registration necessary.
PARKING: Please note that parking is limited on campus.  Parking can be found behind and across from the Highlands Nature Center (930 Horse Cove Rd), in the Valentine House parking lot (888 Horse Cove Rd), and at our admin. building (265 N. 6th Street). For those who are able, some parking is available at our North Campus area (111 Lower Lake Rd) with a ~15 to 20 minute hike to the Nature Center.  After 5:30 p.m., parking is also available at Hudson Library (554 Main St.) with a ~15 to 20 minute hike to the Nature Center along Horse Cove Rd (note that the sidewalk switches to the opposite side of the road once you reach 6th Street, so please use caution as you cross the street).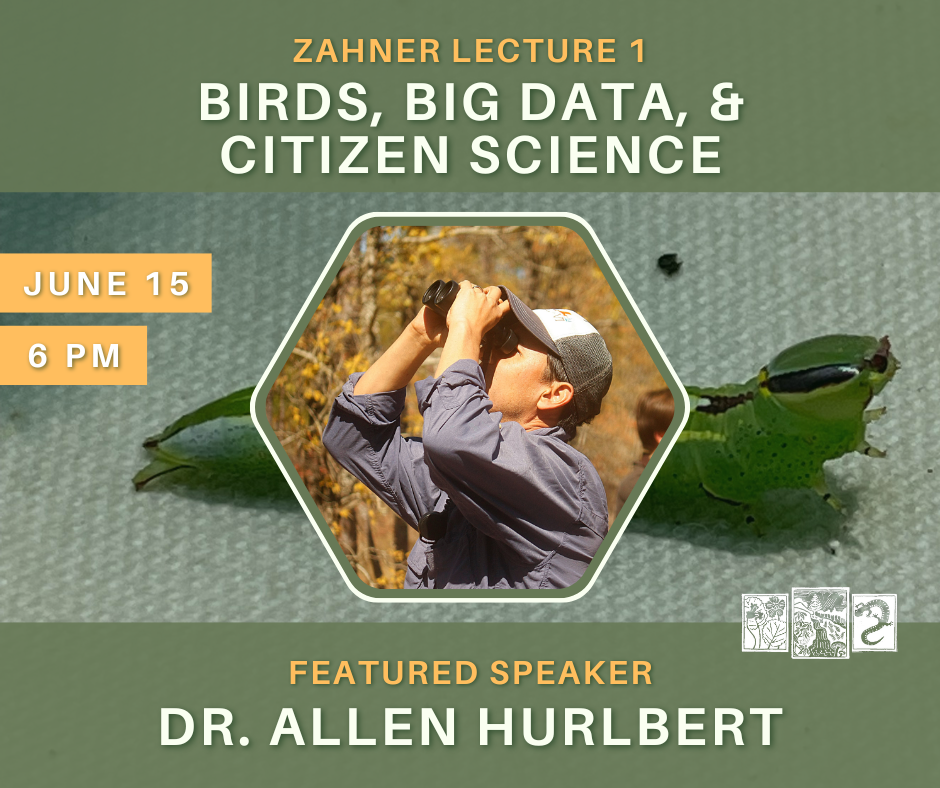 Lecture 1 - Birds, Big Data, and Citizen Science: Understanding the Impacts of Global Change
Featured Speaker: Allen Hurlbert, Ph.D.; Professor of Biology; University of North Carolina at Chapel Hill
Date: Thursday, June 15th
Time: 6pm – 7pm
Cost: FREE
Sponsored by Kim & Rich Daugherty and Kathy & Bestor Ward.
As the world undergoes various facets of environmental change – from warming, to habitat loss, to shifts in seasonality – everyday people can help scientists understand the impacts on natural ecosystems through citizen science. In this talk, Dr. Allen Hurlbert will provide examples of how citizen science has enhanced our understanding of how global change is impacting birds, as well as insect bird food, across North America, and how you can help these efforts.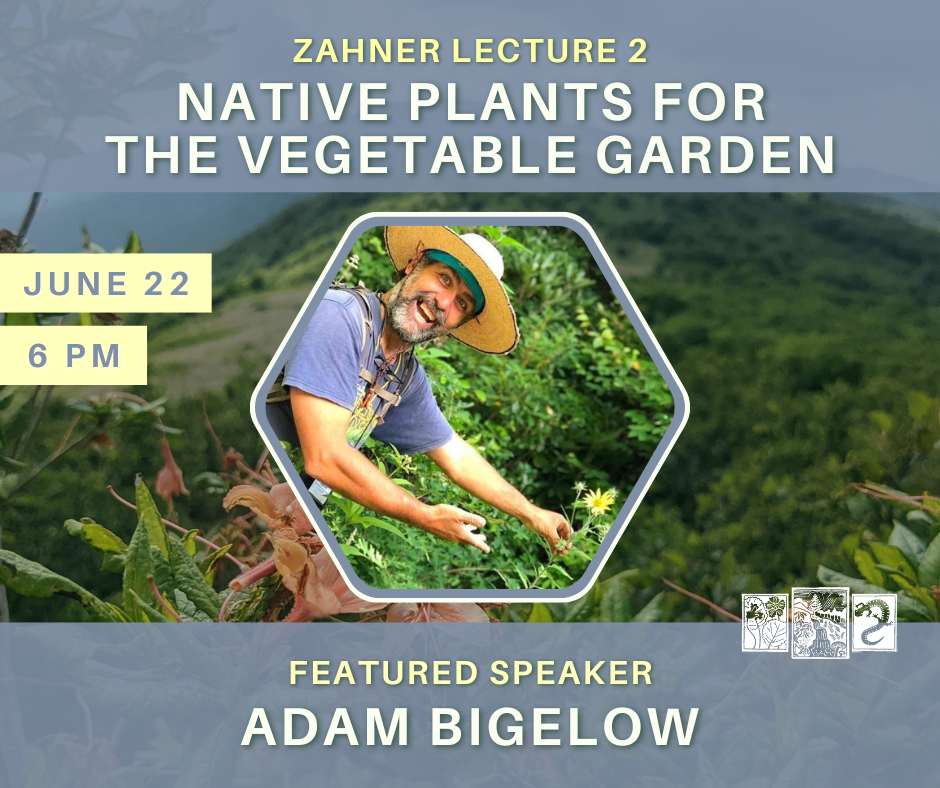 Lecture 2 - Native Plants for the Vegetable Garden
Featured Speaker: Adam Bigelow; Plant Nerd and Guide; Bigelow's Botanical Excursions
Date: Thursday, June 22nd
Time: 6pm – 7pm
Cost: FREE
Sponsored by Vicki & Donny Ferguson.
Native plants benefit us, our gardens, and the landscapes and ecosystems we depend on. Learn about the benefits of native plants and the harm caused by invasive plants. We will discuss how native plants can attract beneficial insects, beautify vegetable and flower gardens, and provide nutrition to the dinner plate, and help fill all of the roles that plants provide to our vegetable gardens and landscapes.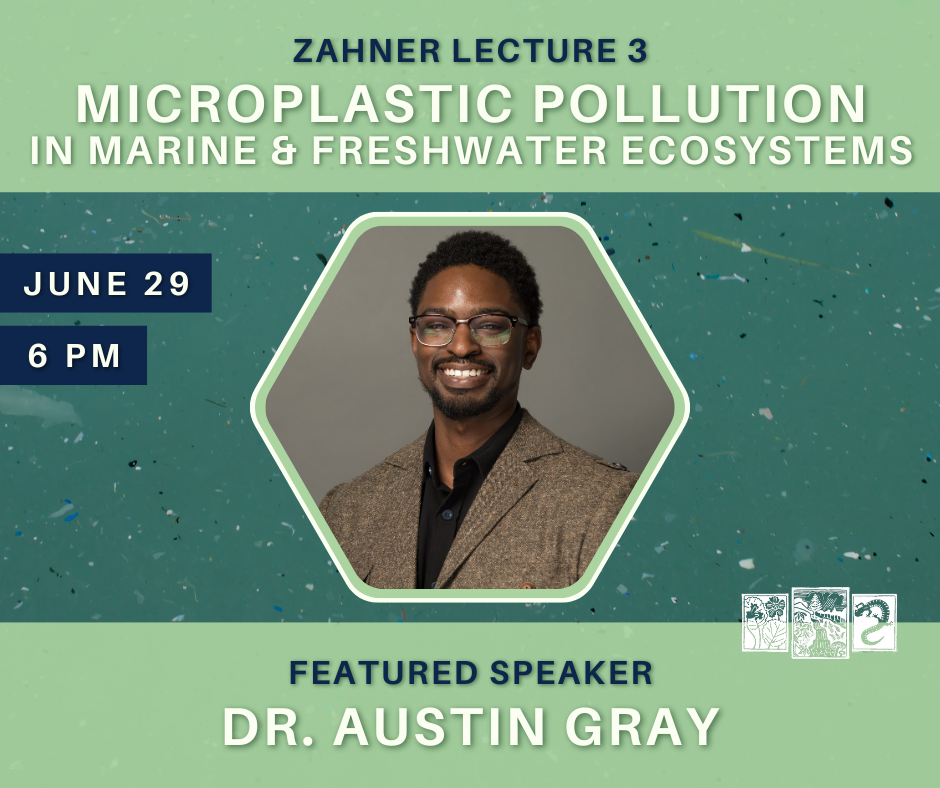 Lecture 3 - Microplastic Pollution in Marine and Freshwater Ecosystems
Featured Speaker: Austin D. Gray, Ph.D.; Assistant Professor of Biological Sciences; Virginia Tech
Date: Thursday, June 29th
Time: 6pm – 7pm
Cost: FREE
Sponsored by Jennifer & Forrest McConnell and Jennie Stowers.
Plastic pollution poses one of the greatest global risks to freshwater and marine ecosystems. The formation of microplastics from plastic debris has been shown to alter aquatic ecosystems by disrupting biota populations. In this talk, topics surrounding plastic pollution, microplastic occurrence and distribution, toxicological impacts of microplastics, toxicokinetic aspects of microplastic uptake and depuration, and microplastic formation rates in marine and freshwater habitats will be discussed.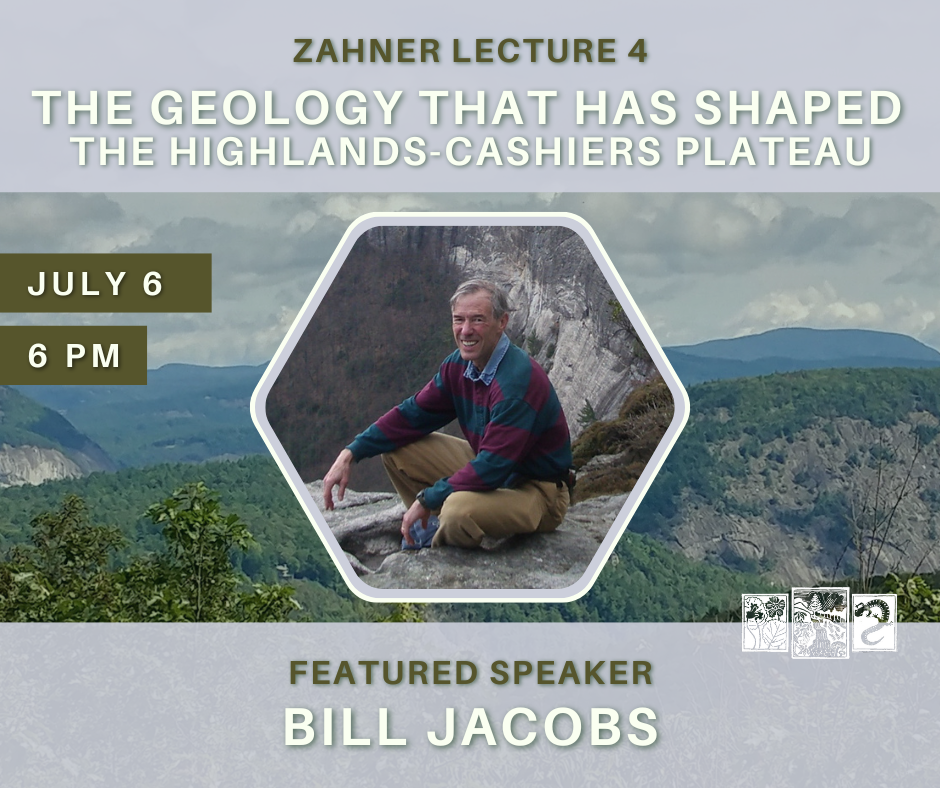 Lecture 4 - The Geology That Has Shaped the Highlands-Cashiers Plateau

Featured Speaker: Bill Jacobs, Geology Enthusiast and Author of Whence These Special Places – The Geology of Cashiers, Highlands & Panthertown Valley
Date: Thursday, July 6th
Time: 6pm – 7pm
Cost: FREE
Sponsored by Anne & Dick Goodsell: The Claude Sullivan Geology Initiative
The Highlands-Cashiers Plateau is a unique landscape, with high valleys, an extraordinary array of waterfalls and mountains, and rich biodiversity. In this lecture, we will explore the geologic processes, stretching back over 500 million years, that have created the Plateau and shaped today's special landscape. Our speaker will use concepts and language comfortable for the non-scientist, and will discuss how geology, some of it ancient and some much more recent, has determined the character and appearance of both the broader Plateau and many of its specific mountains and waterfalls.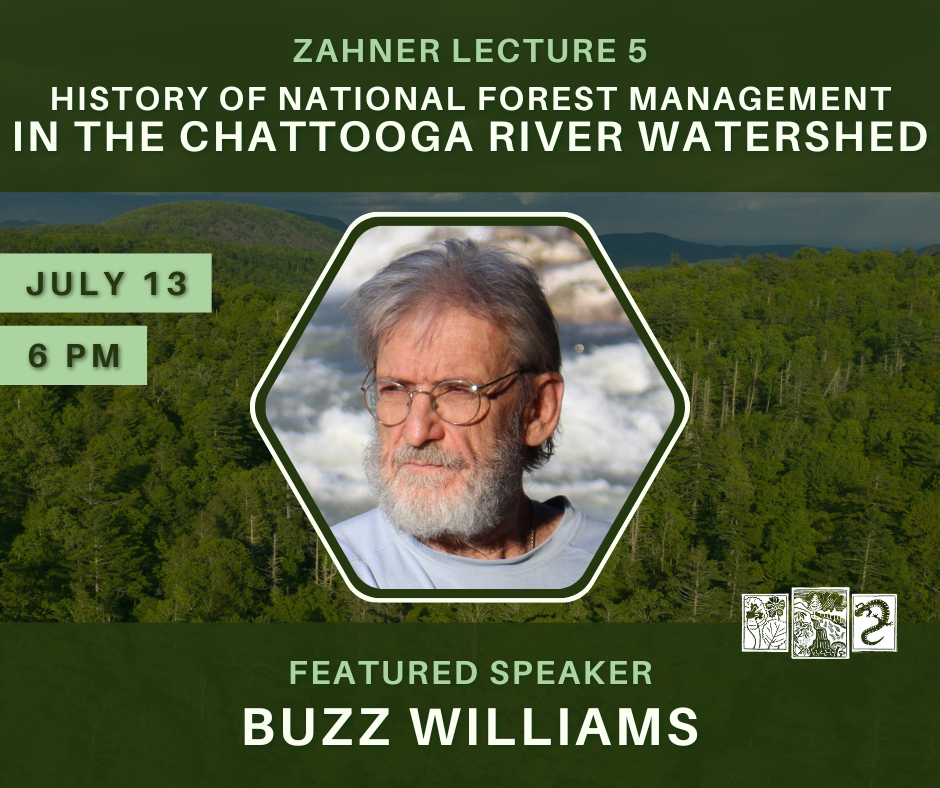 Lecture 5 - History of National Forest Management in the Chattooga River Watershed, and the Compelling Case for a New Mission for the Forest Service
Featured Speaker: Buzz Williams; Emeritus Executive Director & Program Specialist, Chattooga Conservancy
Date: Thursday, July 13th
Time: 6pm – 7pm
Cost: FREE
Sponsored by Bryding Adams & Bob Rathburn, Lynda Anderson & Ken Conover, Margie Bauer & Jim Parker, Janet & Scott Clarke, Leslie & Jim Costa, Diane Lennox & Paul Manos, Helen & Russ Regnery, and Dollie Swanson.
National forest lands in the Highlands-Cashiers Plateau encompass a very sensitive and ecologically rich landscape. These forests are critical for recreation, preserving biological diversity, protecting drinking water supplies, producing clean air—and now, for fighting climate change. These forests are managed by the Forest Service under the US Department of Agriculture and are subjected to intensive logging and cultivation as tree crops. Recently, the Forest Service decided to cut down rare old-growth trees and increase the amount of logging on public lands in western NC. Scientific research indicates that logging on federal forests is a substantial source of carbon dioxide emissions into the atmosphere. Recent studies also found that one of the best ways to mitigate the effects of climate change is by restoring and protecting mature and old-growth forest ecosystems, which store large amounts of carbon. This talk will provide an overview of national forest management in the Chattooga River watershed, and why mitigating the effects of climate change requires a new mission for the Forest Service—one that prioritizes protecting and restoring a network of mature and old-growth forest ecosystems, to ensure biological diversity and management aimed at fighting climate change.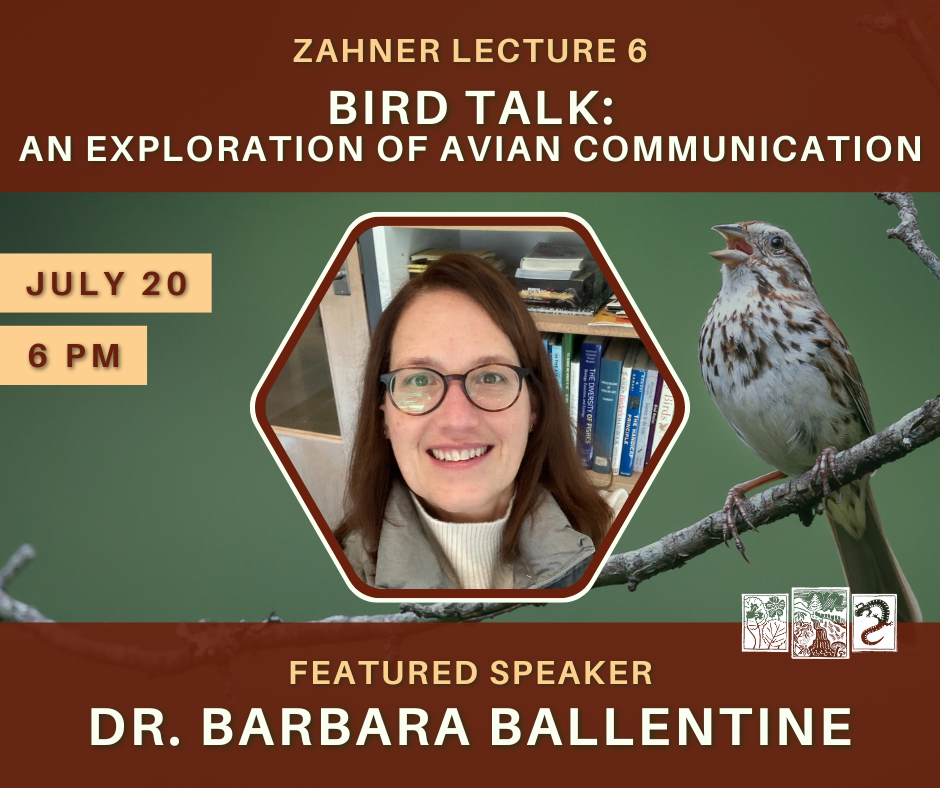 Lecture 6 - Bird Talk: An Exploration of Avian Communication
Featured Speaker: Barbara Ballentine, Ph.D.; Associate Professor; Western Carolina University
Date: Thursday, July 20th
Time: 6pm – 7pm
Cost: FREE
Sponsored by Miriam & Vernon Skiles and Mary Todd & Jimmy Davis.
Birds use acoustic, visual, and even olfactory signals in social contexts that are important for successful reproduction and survival. Signaling works because it offers advantages to both the sender and receiver. Understanding how signals are used by birds to communicate provides insight into the amazing lives of birds.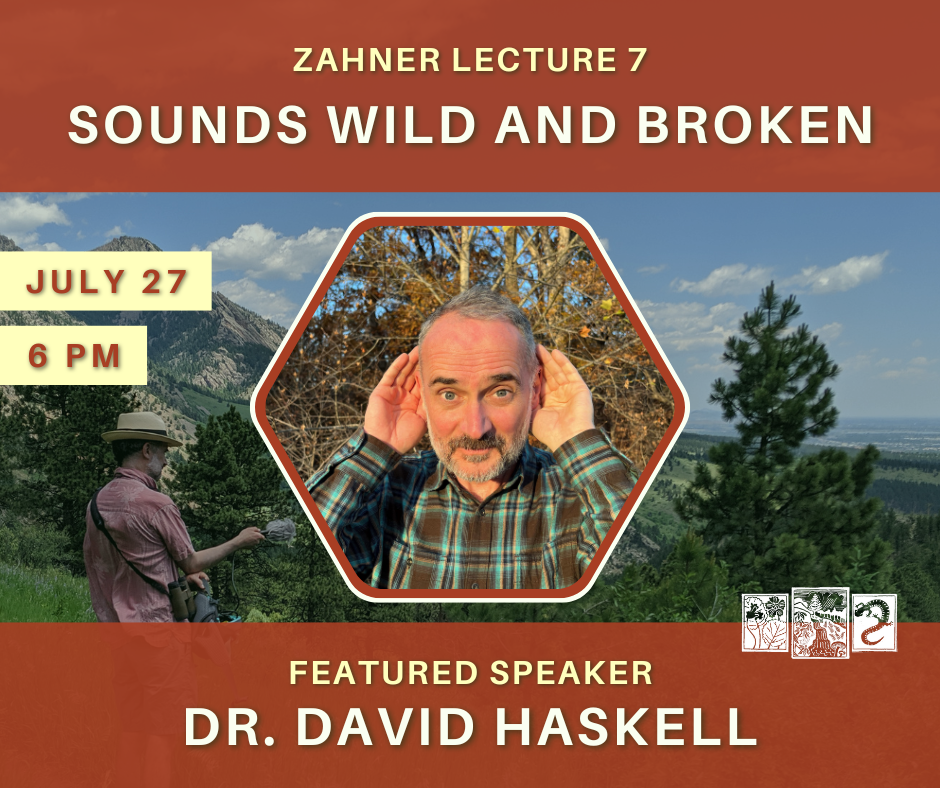 Lecture 7 - Sounds Wild and Broken
Featured Speaker: David George Haskell, Ph.D.; Author and William R. Kenan Jr. Professor; University of the South
Date: Thursday, July 27th
Time: 6pm – 7pm
Cost: FREE
Sponsored by Rosemary & Bill Stiefel.
Sonic communication was a late-comer to the evolution of life on Earth. But once song got started, the links that it forged became powerful generative forces. Today, the diverse sounds around us – from chirping crickets, to birdsong, to the human music in our earbuds – reveal the many layers of this evolutionary and cultural creativity. Yet sonic diversity is also threatened worldwide. Using examples from his own explorations of sound, Haskell will show how attention to the sensory richness of the world, especially its sonic dimensions, can root and guide exploration, ethics, and action.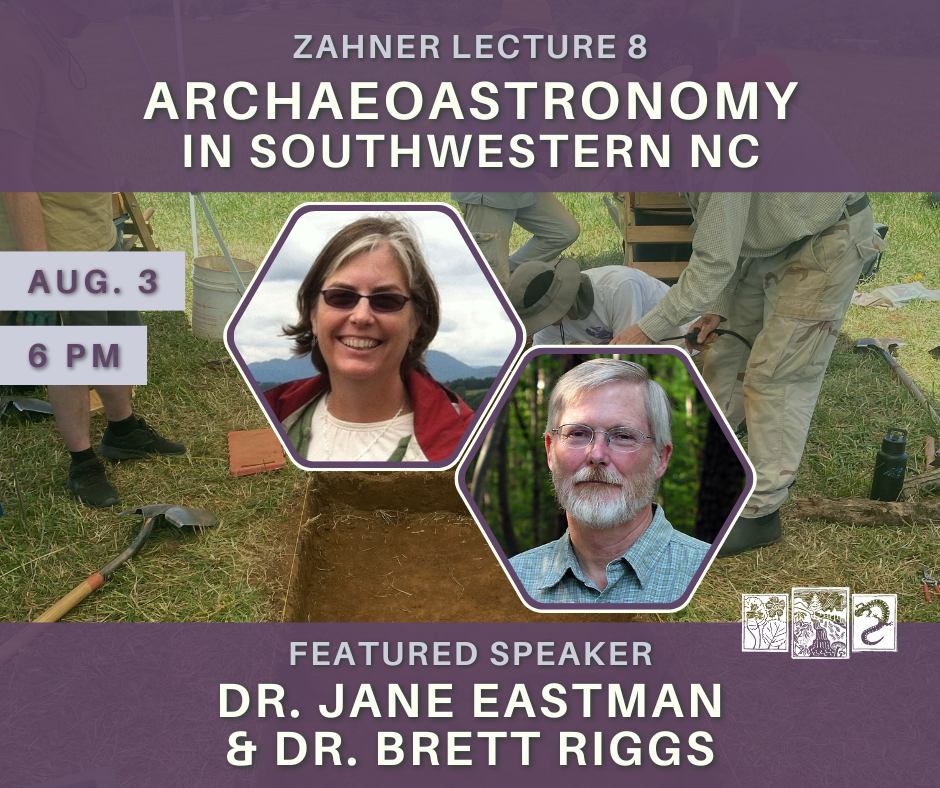 Lecture 8 - Archaeoastronomy in Southwestern North Carolina
Featured Speakers: Jane M. Eastman, Ph.D.; Associate Professor; Anthropology and Sociology Department; Western Carolina University
& Brett Riggs, Ph.D.; Sequoyah Distinguished Professor of Cherokee Studies; Western Carolina University
Date: Thursday, August 3rd
Time: 6pm – 7pm
Cost: FREE
Sponsored by Suzanne & Don Duggan, Julie Farrow, Florence & Tom Holmes, Ruthie & Franko Oliver, Adele & Nick Scielzo, and Margaret Waters.
In ancient Cherokee perspective, the matters of this world, the Above World and the Beneath World intertwine, and Cherokee peoples constructed ritual landscapes to engage the beings and forces of these realms. Recent investigations in the Little Tennessee River Valley have revealed one such landscape that marks astronomical phenomena and bespeaks sophisticated systems for measuring calendrical time and the cycles central to Cherokee life. These patterns indicate complex observational sciences that guided functions of indigenous societies long before European contact.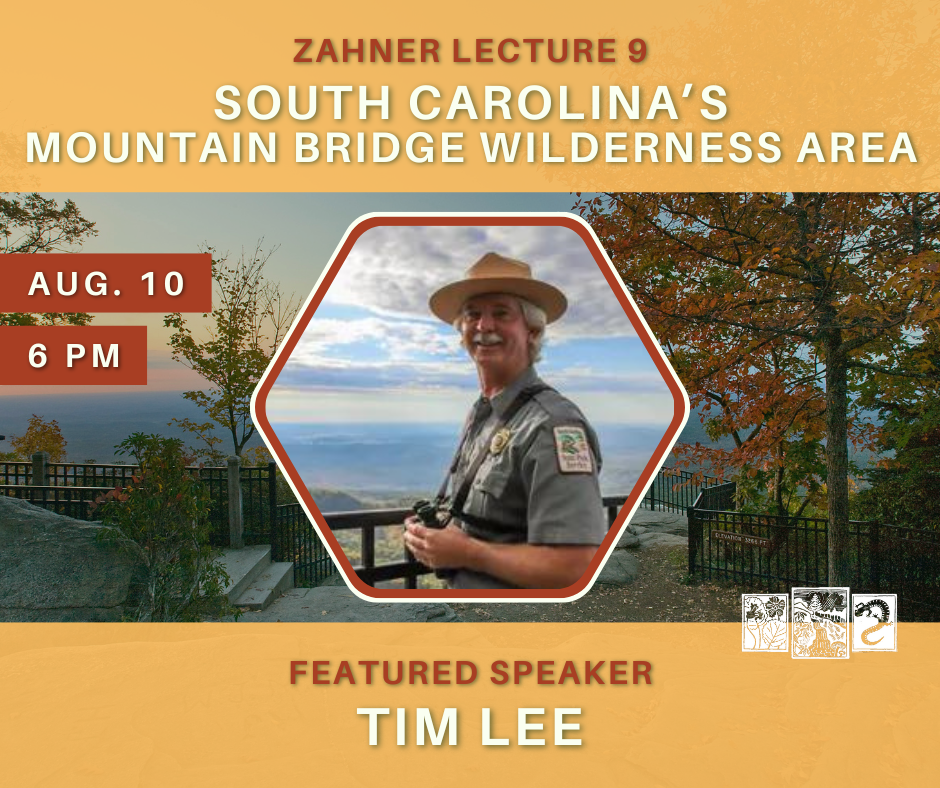 Lecture 9 - South Carolina's Mountain Bridge Wilderness Area
Featured Speaker: Tim Lee; Interpretive Ranger/Naturalist; Mountain Bridge Wilderness Area
Date: Thursday, August 10th
Time: 6pm – 7pm
Cost: FREE
Sponsored by Martha & Michael Dupuis, Monte & Palmer Gaillard, and Melanie & Tom Mauldin.
Located in an area along the Blue Ridge Escarpment, the Mountain Bridge Wilderness Area provides a habitat for a diversity of biological communities adapted for life along the Blue Ridge Escarpment. With high average rainfall, diverse topography, and miles of streams and rivers many species found there are rare within the state and some are found in few other places in the world.