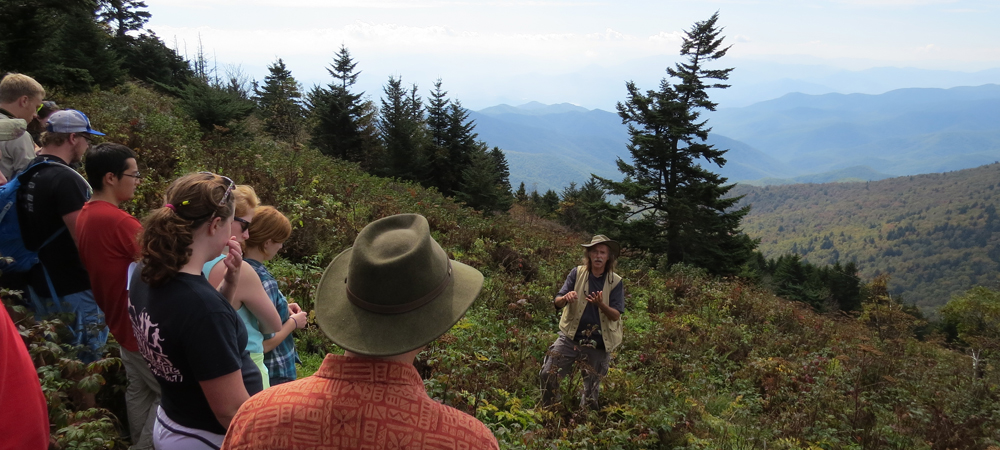 Educational Programs at HBS
The Highlands Biological Station is a multi-campus center of Western Carolina University, serving as a biological field station for researchers and a place of learning for everyone. 
College and Life Long Learners
Highlands Biological Station offers a range of educational programs for adults and college students alike. Sign up for one of our immersive one or two-week long summer field courses or join us for a one day workshop. 
We can provide housing, facilities, and programs for visiting college and university classes. In addition, we serve as a field site for students enrolled in UNC-Chapel Hill's Institute for the Environmental fall semester program.
Finally, visit our Upcoming Events page for special programs and events happening at HBS, such as the Zahner and Climate Conversation lecture series.
K-12 Programs
Highlands Biological Station has an active K-12 school outreach program that brings the wonders of the natural world and STEM into the classroom. We also can cater field trips, including overnight trips to HBS, so students can explore our native Botanical Garden, look for salamanders in nearby woods and streams, and learn to use equipment such as microscopes.

Youth and Family Programs
We offer a number of youth summer day camps, afterschool programs, and other activities for both children and families. Additionally, we have an on-site Nature Center with exhibits and programming that highlight the southern Appalachian region.
If you're not able to visit us, never fear! We have a wide selection of virtual offerings that you can view at home, full of fun activities and informative videos.