Highlands Olde Mountain Christmas Parade
Saturday, December 4th; 10:30 AM
FREE
The Highlands Nature Center will be a part of this year's Christmas parade! Join us this holiday season for the annual parade down Main Street in Highlands to see what festive float we'll have this year. Then, join us at the Nature Center between 1 PM and 4 PM to make Holiday Creations out of natural materials.
Holiday Creations
Saturday, December 4th; 1 PM to 4 PM
FREE; all ages welcome
Kick off your holidays by making decorations from natural materials! Drop by the Highlands Nature Center on December 4th from 1 p.m. to 4 p.m. to create seashell Santas, pine cone ornaments, and more!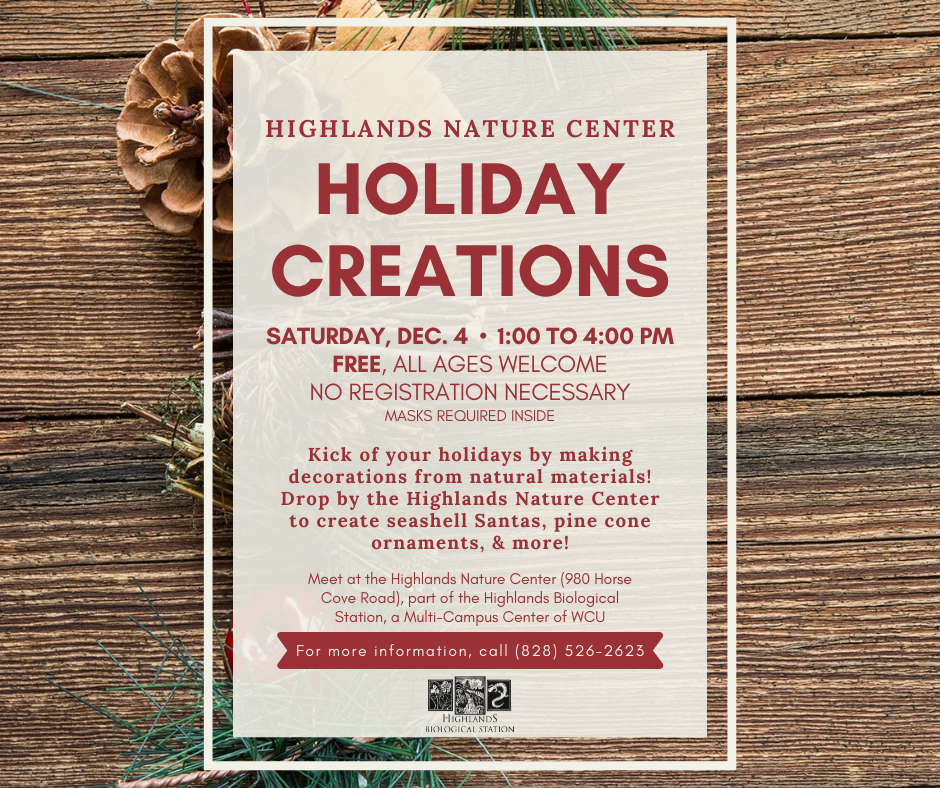 Highlands Field Site Students' End-of-Semester Presentations
Thursday, December 9th; 10 AM
Location TBD
FREE; registration required
Register HERE
Bats and hemlocks and salamanders, oh my! Join us as we celebrate the four months of hard work our 12 Highlands Field Site students have accomplished. These talented and determined students have been working hard to contribute to the understanding of the incredible biodiversity of our region. You can join them for their end-of-semester celebration where they will present their individual and group research project findings for our community. The presentations and reception will be held on Thursday, December 9th at 10 a.m. Location to be determined.
For a sneak peek at the students' research projects, see HBF's fall newsletter HERE.
This program is through UNC – Chapel Hill's Institute for the Environment.