See below for all of our upcoming events & programs!
To be notified of new programs, events, & other special offerings,
sign up for HBF's e-newsletter HERE.

Highlands Nature Center's Daily Programs: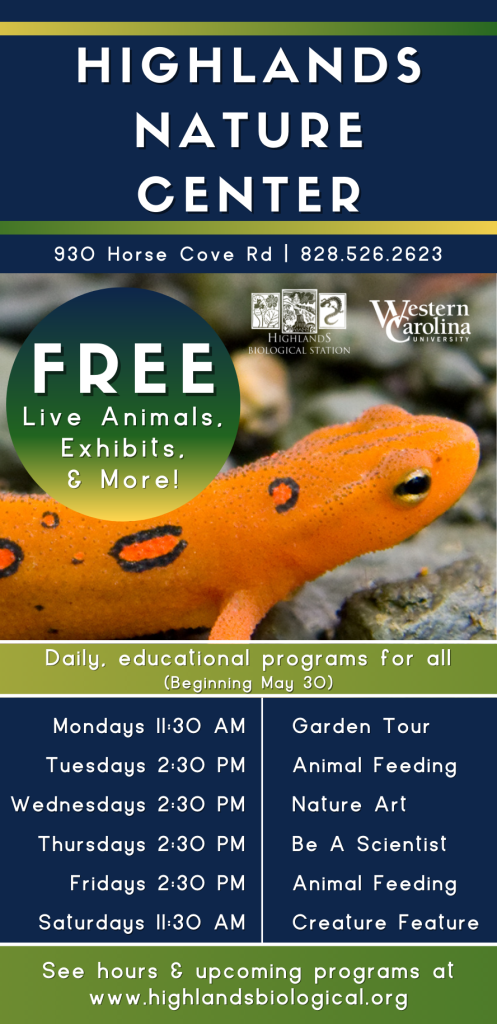 Mondays – Saturdays  |  Times vary (see image above)  |  Available through August 13th
FREE  |  NO registration necessary
Calling all nature lovers! Join the Highlands Nature Center for our free, daily educational programs!  Offerings include garden tours, animal feedings, nature art, and more. There's something for all ages and interests.
Participants will meet in the amphitheater behind the Nature Center (930 Horse Cove Rd).  Programs are weather dependent.

Zahner Lecture 7: Plant and Fungal Support Networks on the Highlands Plateau
Thursday, August 18th  |  6 to 7 PM
Highlands Nature Center
FREE  | No registration necessary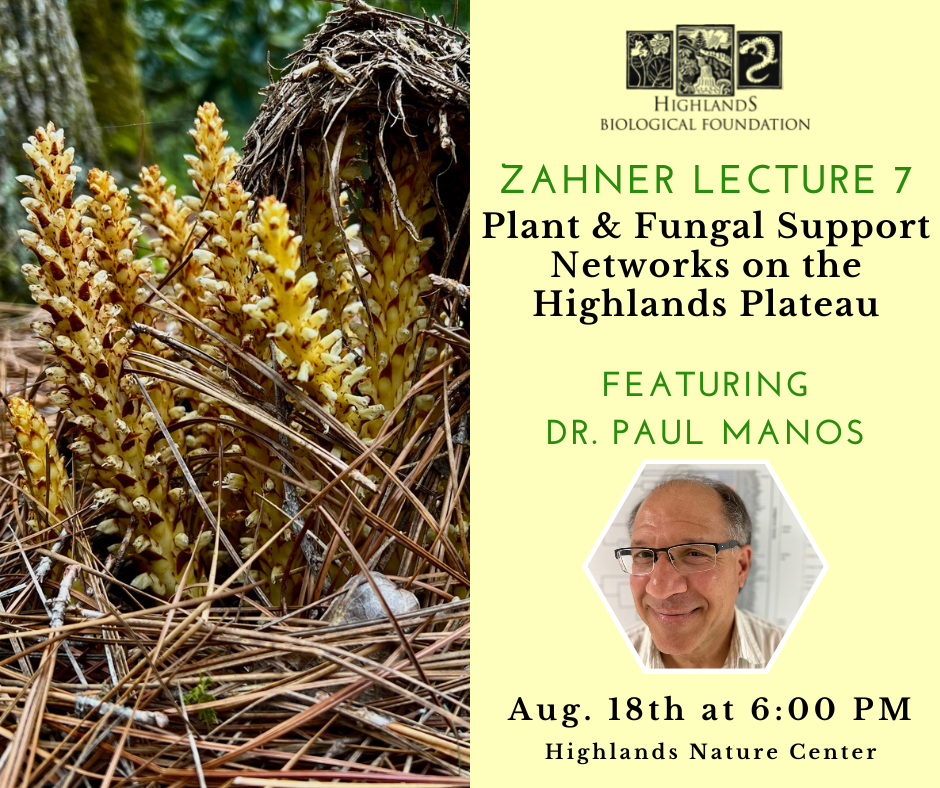 Featured Speaker: Dr. Paul Manos, Professor of Biology, Duke University
Sponsored by Dollie Swanson.
Several common plant species on the Highlands Plateau display unusual forms and habits. These phenomena send signals to even the casual observer that something different is going on here. But what? A deeper dive reveals ancient support networks with consequences that will alter your perception of basic plant structure and function, both below and above ground.
Zahner Lecture 8: How Light Pollution Affects Avian Conservation
Thursday, August 25th  |  6 to 7 PM
Highlands Nature Center
FREE  | No registration necessary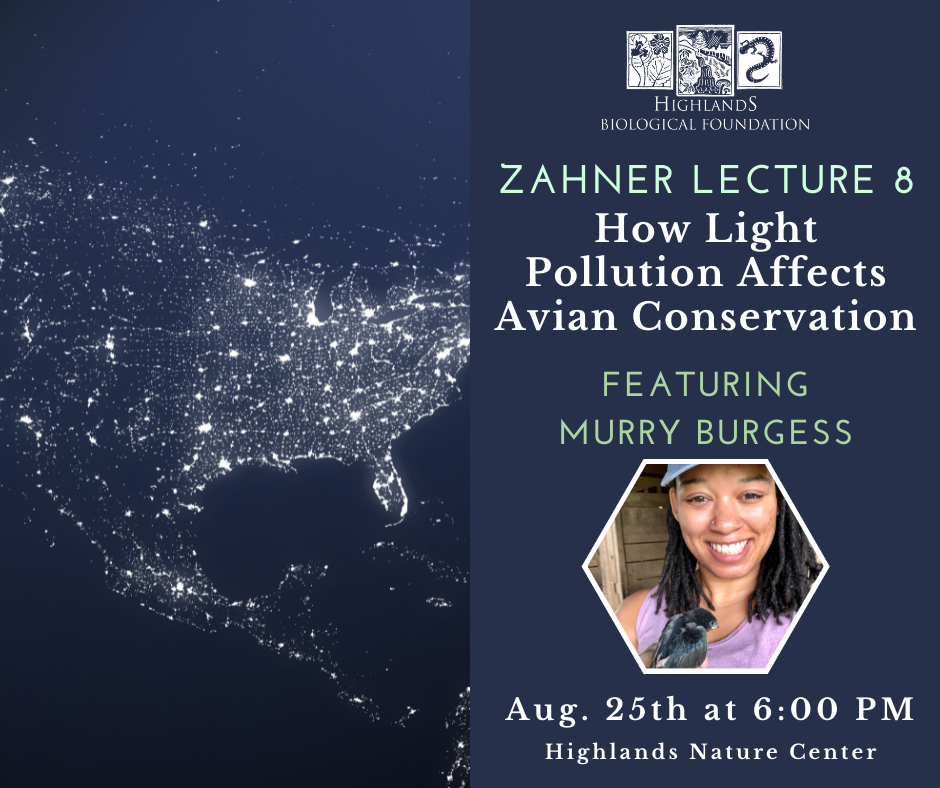 Featured Speaker: Murry Burgess, Urban Ecologist, North Carolina State University
Sponsored by Lane & Mark Murrah and Vicki & Donny Ferguson.
Light pollution impacts birds on all levels, including migration, reproduction, metabolism, and development. Most of the problems that light pollution causes start with a lack of sleep and can lead to more serious conditions like cancer, diabetes, and heart disease – for both wildlife and humans! This talk covers light pollution, its sources, its impact on birds and humans, and – most importantly – what we can do to mitigate these consequences.
Zahner Lecture 9: Land Protection and Path Forward for Climate Resilience in the Southeast
Thursday, September 1st  |  6 to 7 PM
Highlands Nature Center
FREE  | No registration necessary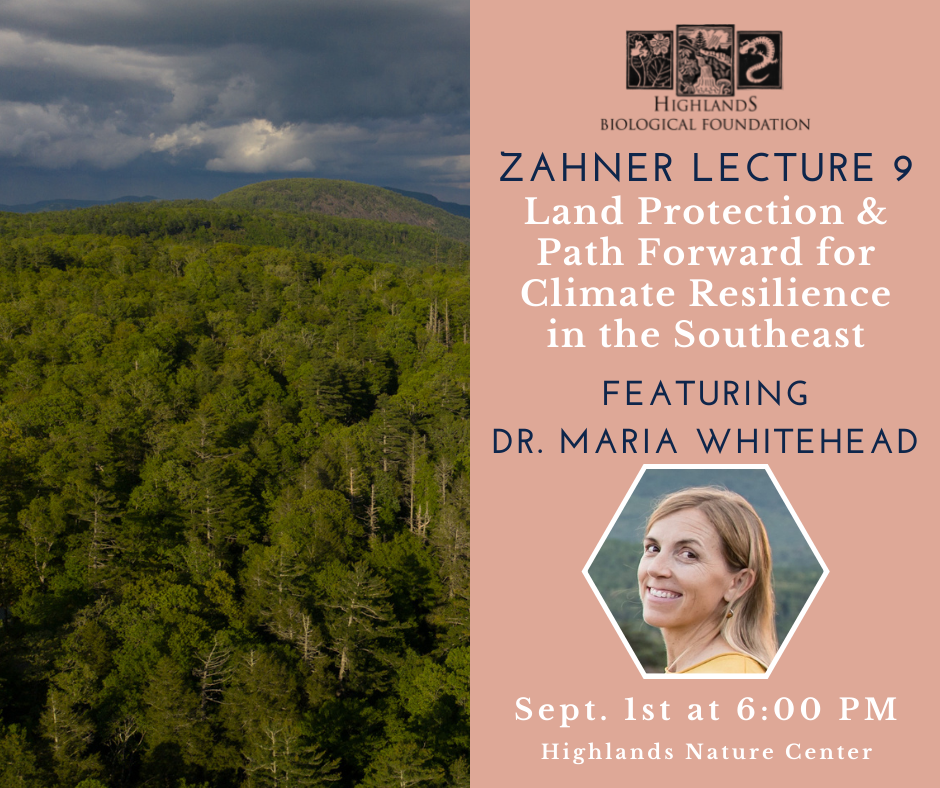 Featured Speaker: Dr. Maria Whitehead, Vice President and Director of Land, Southeast, Open Space Institute
Sponsored by Martha & Michael Dupuis, Monte & Palmer Gaillard, and Melanie & Tom Mauldin.
Conservationists are faced with a new reality in this changing climate. Indeed, today, climate charge is the lens through which we view all of our work. This lecture will explore some of the challenges faced by conservationist, tools for addressing those challenges, and how natural solutions to climate change may increase resilience for both natural and human communities.
Zahner Lecture 10: George Masa's Wild Vision: A Japanese Immigrant Imagines Western North Carolina
Thursday, September 8th  |  6 to 7 PM
Highlands Nature Center
FREE  | No registration necessary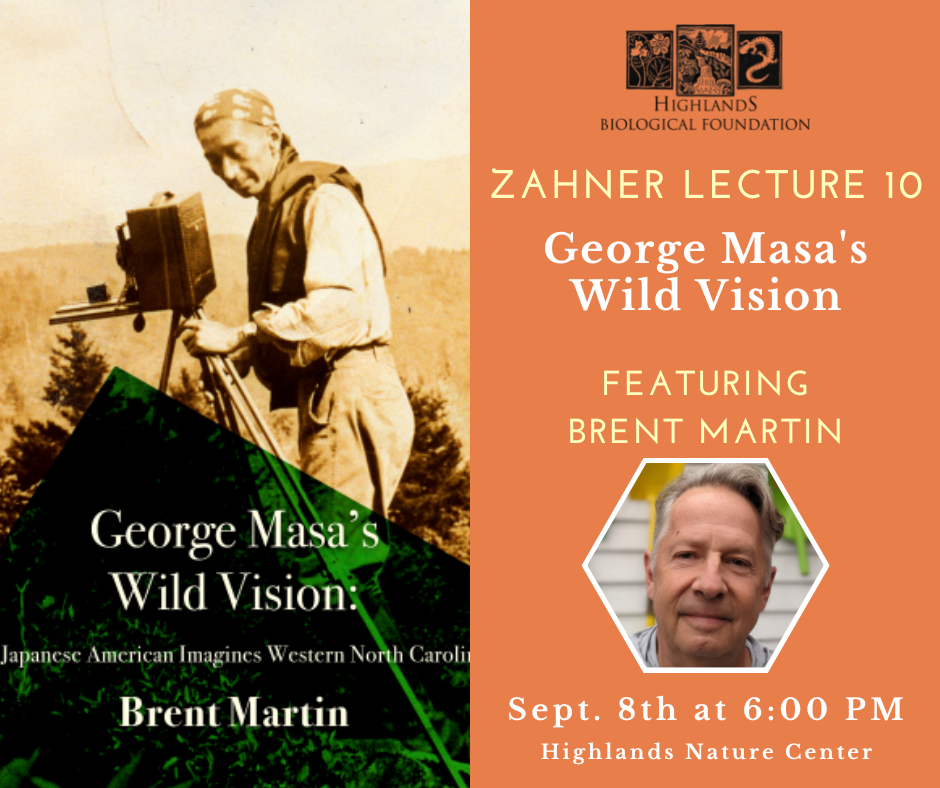 Featured Speaker: Brent Martin, Executive Director, Blue Ridge Bartram Trail Conservancy
Sponsored by an anonymous supporter.
In this lecture, Brent Martin will present on the photography and life of early 20th century Japanese immigrant, Masahara Izuka, aka George Masa. Masa's stunning photographs of the southern Appalachians were used to promote the creation of the Great Smoky Mountains National Park, Mt. Mitchell State Park, the Appalachian Trail, the town of Highlands, and much more.
Native Plant Symposium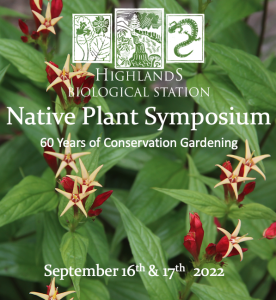 In celebration of the Highlands Botanical Garden's 60th Anniversary, the annual Native Plant Symposium is being resurrected for this special occasion. Join us for this event highlighting 60 Years of Conservation Gardening.
This event will span two days, Friday September 16th and Saturday, September 17th, in two locations in town. On Friday, participants are invited to learn about the unique plants of the region with Botanical Garden tours from 4-6 p.m. Following the tours and reception, an evening lecture will be given by Executive Director Dr. Jim Costa.
On Saturday, September 17th, join us for an informative day with speakers including renown entomologist and author of "Bringing Nature Home" Doug Tallamy, and Patrick McMillan, formerly of the South Carolina Botanical Garden and Emmy-award winning PBS host.
To learn more, visit: https://highlandsbiological.org/nativeplantsymposium/
From Penguins to Plankton – the Dramatic Impacts of Climate Change in Antarctica
Friday, September 23rd  |  5 to 6 PM
Highlands Nature Center
FREE  | Registration Required HERE
Featured Speaker: Dr. James McClintock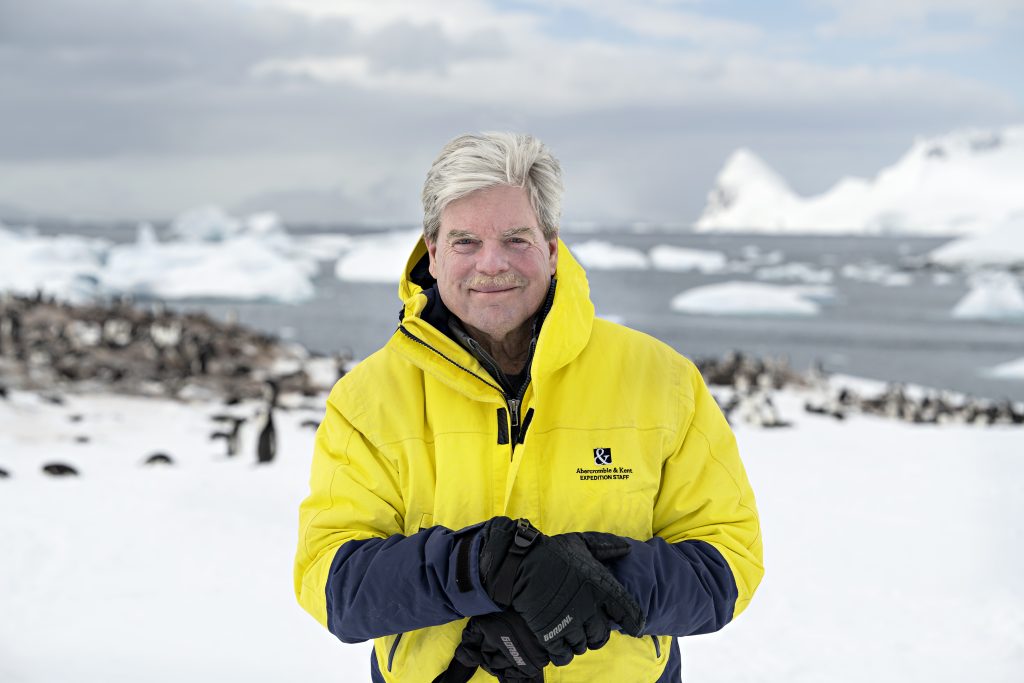 Dr. James McClintock's presentation is largely a personal story-based approach to educate students and the general public about the increasingly pressing issue of global warming. The Antarctic Peninsula is the most rapidly warming region of our planet. Glaciers are in retreat, major coastal ice sheets are disintegrating, and the annual sea ice is declining. Marine ecosystems are being dramatically restructured. Populations of key species including krill and Adélie penguins are disappearing. Warmer weather species, such as gentoo penguins, chinstrap penguins, and elephant seals, are exhibiting range extensions as temperatures warm. And for the first time, deep water king crabs are migrating up the Antarctic slope where they are threatening to decimate vulnerable shelf communities harboring species that may unlock cures to human disease. These dramatic alterations in the Antarctic marine ecosystem speak loudly to the need to address global climate change and its growing impacts including those now affecting us here in Southeastern U.S. Fortuitously, the amazing story of the discovery and mitigation of the hole in the ozone over Antarctica offers a poignant model of hope for the future.
Highlands on the Half-Shell 2022
Sunday, October 2nd  |  4 PM 'til dark
Valentine Meadow (888 Horse Cove Rd)
Tickets $125 per person. Tickets on sale Monday, August 15th!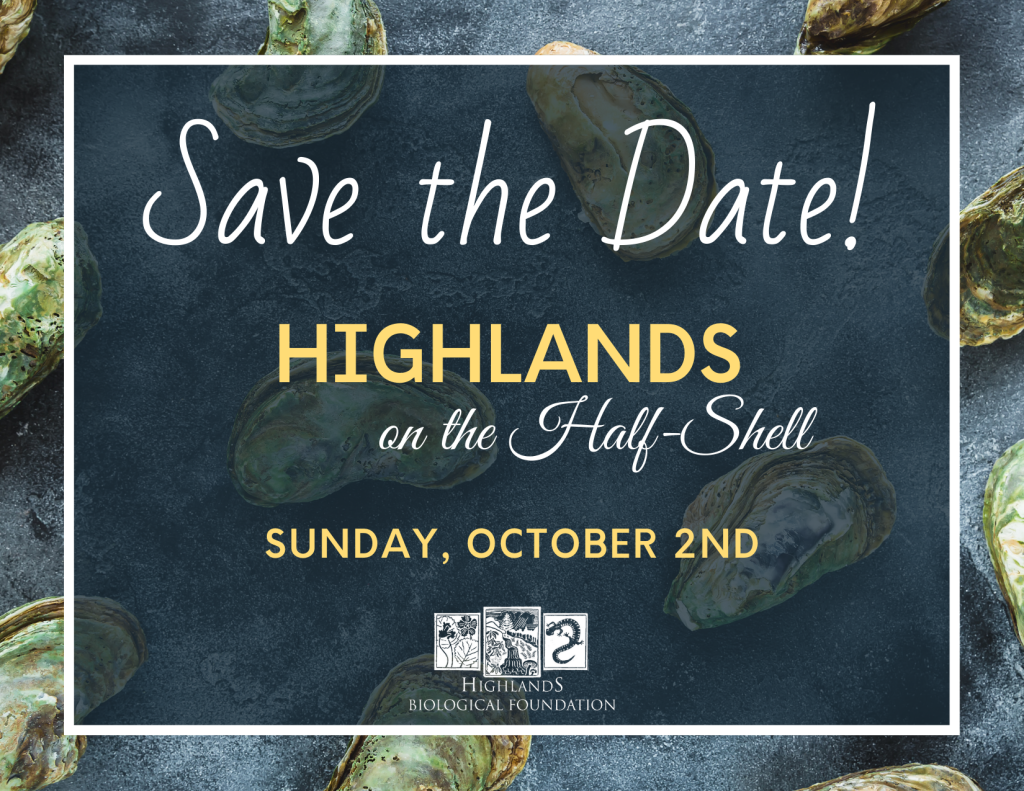 Highlands on the Half-Shell is back! Join us on Sunday, October 2nd at HBS's Valentine Meadow (888 Horse Cove Rd) for our annual oyster roast celebration benefitting the Highlands Biological Foundation. Stay tuned for more details.
Monthly Botanical Garden Tours
The 1st Monday of each month  |  11:30 AM to 12 PM
FREE  |  limited capacity  |  registration strongly encouraged ->  Register HERE
There is always something changing in the Highlands Botanical Garden! Join HBS Horticulturist, Rachel Martin, to see what's new in our demonstration gardens and among the hundreds of species that call our campus home.
Tours are weather dependent. Participants will meet in the amphitheater behind the Highlands Nature Center (930 Horse Cove Rd). Parking is available behind the Nature Center and across the road at the Sunset Rock trailhead.
Face coverings are encouraged during group tours if participants are unable to stay 6ft apart from each other.
Interested participants with limited mobility, please contact Rachel Martin at rmartin@email.wcu.edu to discuss your individual needs.
Please note that this page does not list our summer courses or workshops. You can view them in our "Calendar" or on the "Courses and Workshops" page.