Autumn Ambles
Thursdays this October (10/7, 10/14, 10/21, 10/28); 1 PM to 2 PM
FREE; reservations required: (828) 526-2623
If you have wondered why leaves change color or what conditions make for a spectacular fall display, join the Highlands Nature Center for our 'Autumn Amble' tours this October. Every Thursday in October at 1 p.m., staff will lead an exploration of the Botanical Garden to discover what leaves are already changing and the (science of) why. All are welcome to participate in these free guided tours, however, spaces are limited. Please call the Highlands Nature Center at (828) 526-2623 to reserve your spot!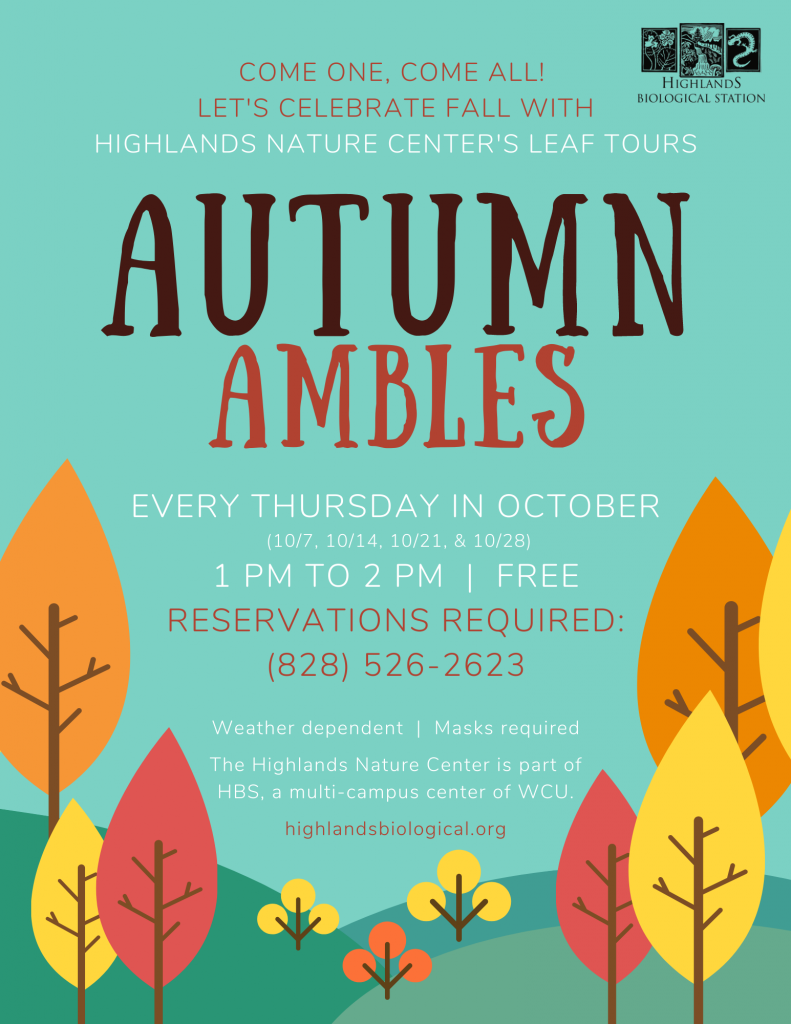 Appearances Can Be(e) Deceiving: Prepping Your Pollinator Garden for the Winter
Tuesdays October 12th & 26th; 10 AM
FREE; NO reservations required
Meet at the North Campus entrance of the Highlands Biological Station (located on Lower Lake Road)
The work of your pollinator garden does not stop at summer's end. Pollinators utilize the landscape throughout the year. Join Sonya Carpenter at HBS's North Campus Pollinator Garden to learn some tips and strategies to maximize your landscape to support other species of wildlife and encourage new growth in your garden. We will also discuss planning and design options for your garden to expand and enhance your garden for next year's pollinators.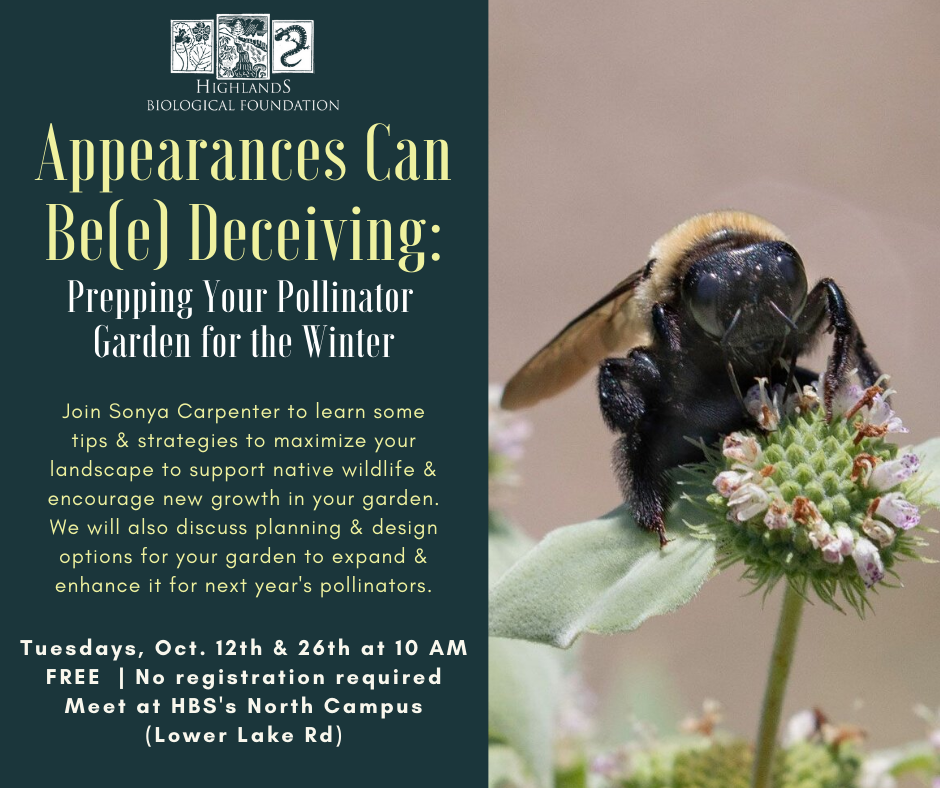 Nature 101 - Bears in the Backyard
Tuesday, October 19th; 1 PM to 2 PM
FREE; reservations required: (828) 526-2623
Join the Highlands Nature Center for a special presentation from Highlands' BearWise coordinators to learn more about these amazing animals! What problems do we typically encounter with bears? What can we do to prevent these issues? Cynthia Strain and Gail Kinstler will answer these questions, discuss basic bear biology, and more. Please call the Highlands Nature Center at (828) 526-2623 to reserve your spot!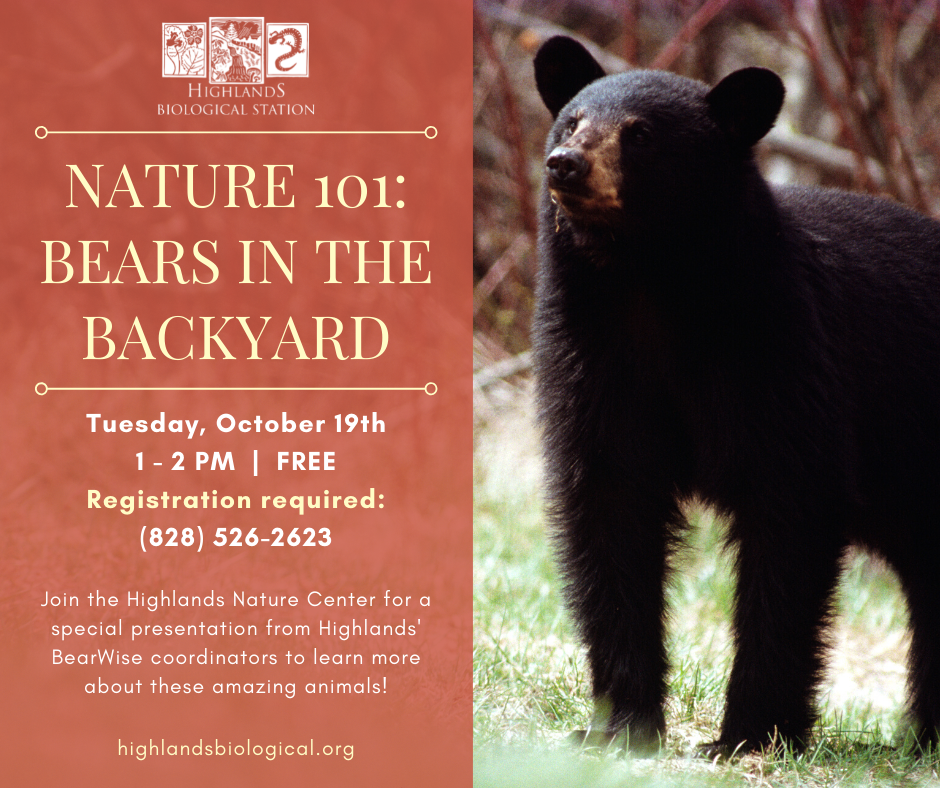 2021 Carpenter Lecture with Dr. Katharine Wilkinson
Friday, October 22nd at 11 AM  |  Reception to follow
Location: First Presbyterian Church of Highlands (471 Main St, Highlands, NC 28741)
FREE; reservations required – Register HERE
The Highlands Biological Foundation is thrilled to announce a new community event – Our inaugural "Carpenter Lecture" will take place Friday, October 22nd featuring renowned author, strategist, and teacher, Dr. Katharine Wilkinson (pictured). The Carpenter Lecture series honors HBF's former director, Sonya Carpenter. Sonya led HBF for nearly 10 years & grew our organization and expanded our accomplishments immensely. As Highlands residents know, Sonya is a passionate advocate for the natural world with a focus on educating our community about the world around us, so join us for this community event in her honor!
Learn more about the event and our featured speaker, Dr. Wilkinson, HERE.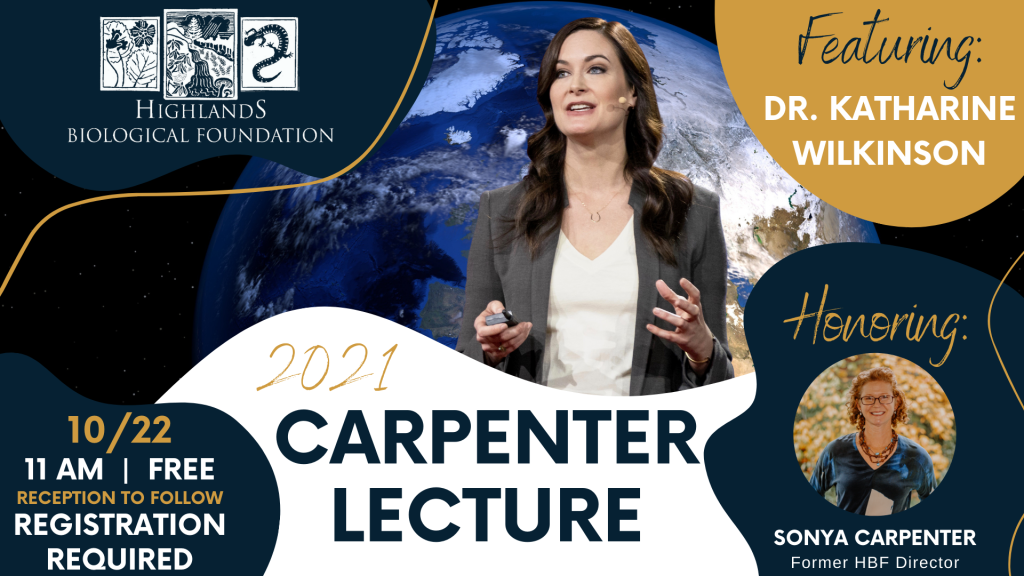 Ghostly Garden
Pick up & drop off kits by Wednesday, October 27th so we can hang them up.
Ghostly Garden decorations up Friday, October 29th – Sunday, October 31st
FREE
The Highlands Biological Foundation needs your help creating a Ghostly Garden for families to walk through. This Halloween season, the Highlands Botanical Garden will feature a self-guided hike showcasing handmade decorations by friends like you!
If you would like to participate, the Foundation is offering free "spooky" kits for you and your family to make your own "Boo-tiful Bat", "Ssssneaky Snake", or "Biting Bear Skull"! Pick up and drop off your creations at the Highlands Nature Center by Wednesday, October 27th. Then, wander through the Ghostly Garden, if you dare, to see all the decorations from Friday, October 29th through Sunday, October 31st. The Garden will feature decorations made by community members during the 2020 Halloween season as well, so come see if you can spot yours. Costumes are encouraged!
To request a kit or for more information, call the Highlands Nature Center at (828) 526-2623.
Note: While visiting, please wear a mask and maintain physical distancing from other visitors. If rain is forecasted, we will take the decorations down so they are safe. Stay tuned to highlandsbiological.org for updates.
 Kit options: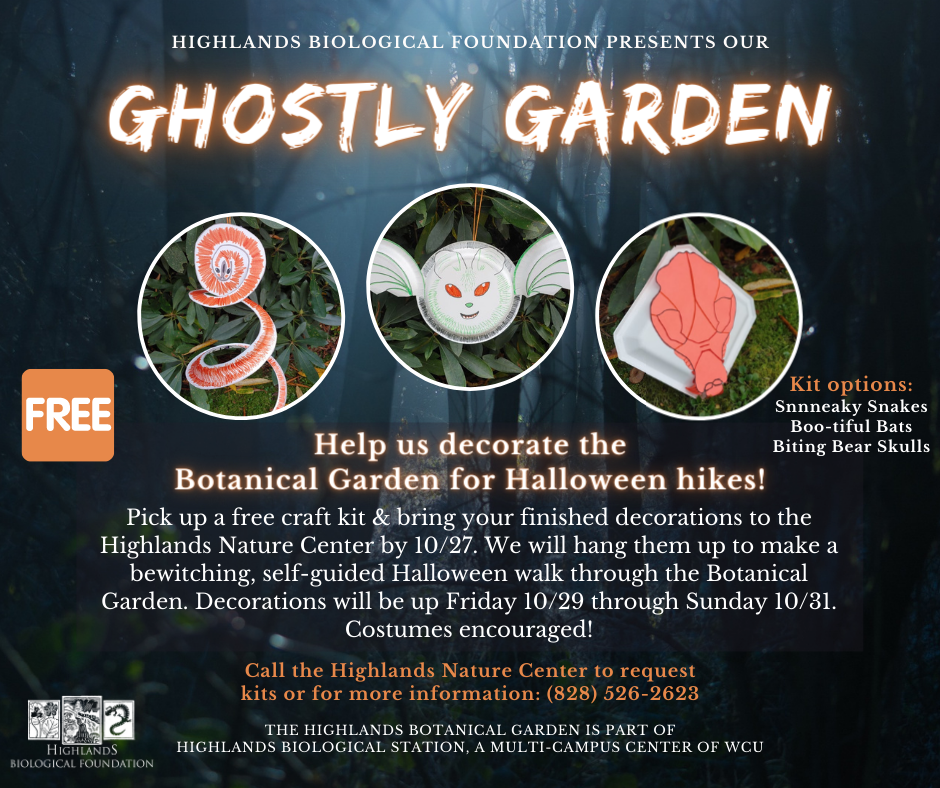 Enchanted Forest
Tuesday, October 26th; 6 PM to 7:30 PM
More details coming soon!