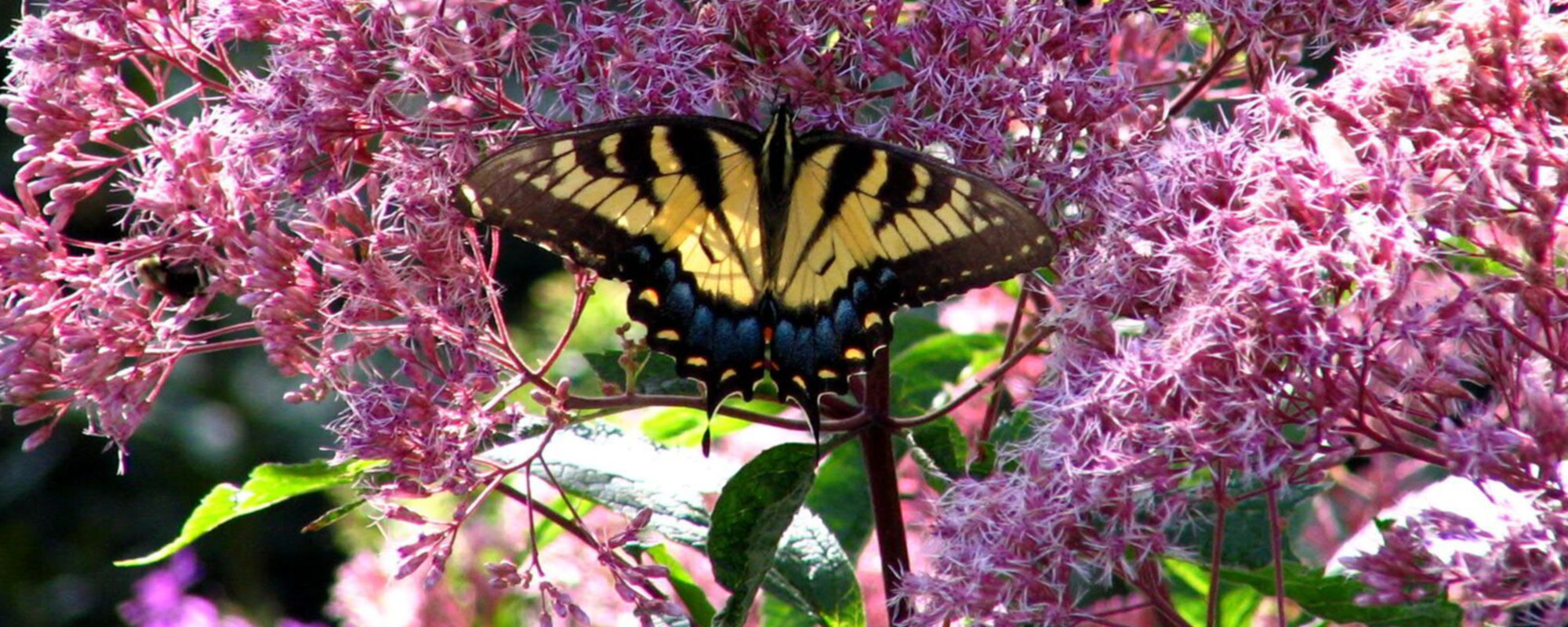 Botanical Gardens
The Botanical Garden is free and open to the public year-round from sunrise to sunset. Support comes from Highlands Biological Foundation memberships and donations.
About the Garden
The Highlands Botanical Garden was established in 1962 as a refuge and demonstration garden for the diverse flora of the southern Appalachians and its unique communities.
Nearly 500 species of mosses, ferns, wildflowers, shrubs, and trees flourish in natural forest, wetlands and old-growth plant communities connected by a series of trails and boardwalks.  Several unique demonstration gardens display collections of Native Azaleas, Plants of the Cherokee, Mosses and Liverworts, Wildflower Meadow, Butterfly-pollinated and Rock Outcrop species. Support comes from Highlands Biological Foundation membership, donations, and Highlands Biological Station. The trail network in the Botanical Garden is part of the Highlands Plateau Greenway and the North Carolina Birding Trail.
Highlands Botanical Garden is open year-round, dawn to dusk, free of charge. Come enjoy the wildflowers along our woodland trails, lake, and creek, have a picnic lunch, take one of our tours or workshops, or consider volunteering.
We have great common spaces for picnics – check them out here! 
Entrances
The Highlands Botanical Garden is accessible from two locations. Free parking is available at both.
The Highlands Nature Center (930 Horse Cove Road): From the Nature Center follow the trail behind the building into the Woodland Way. The entrance will be on your right.
The Coker Lab (265 N. 6th Street): From the Admin Building follow the gravel road towards the Nature Center. The entrance will be on your left.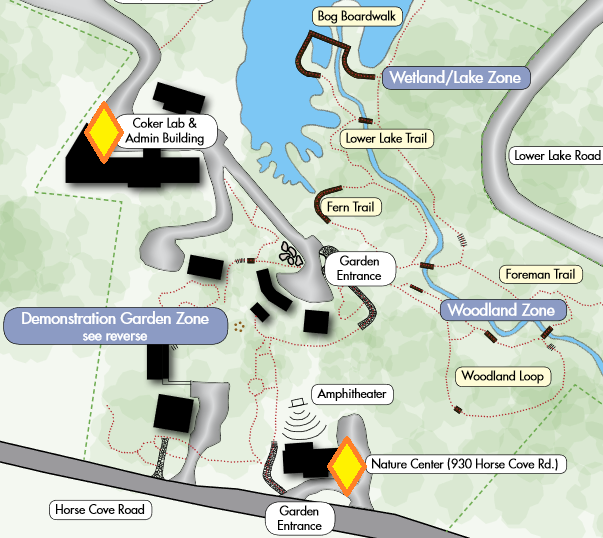 Programs and Community Outreach
Botanical Garden Tours
Scheduled tours are held each Monday during the summer at 10:30am until  11:30am from May 29 until August 7.  Each week is devoted to one of the topics below.
While you are not required to R.S.V.P. to these walks, we encourage you to let us know in advance if you are coming. Attendees should meet in front of the Nature Center (930 Horse Cove Road).
Garden Guidelines
All pets must be properly leashed and cleaned up after.
Stay on marked trails to protect the plants.
Do not pick or remove plant material.
Do not leave trash on the Station grounds.
Please watch for uneven terrain, rocks, and roots.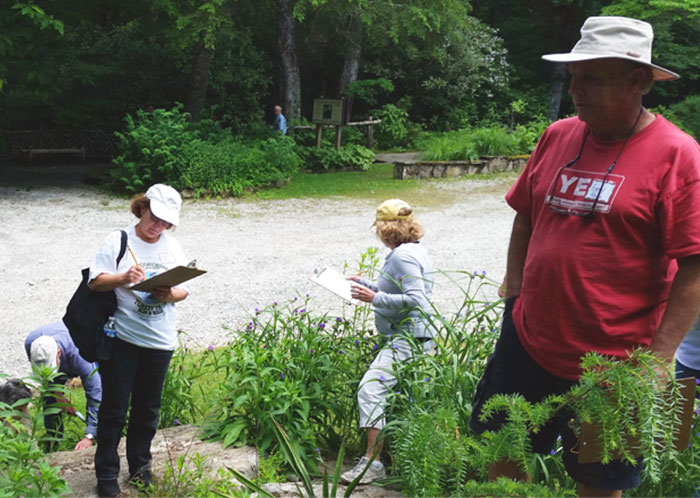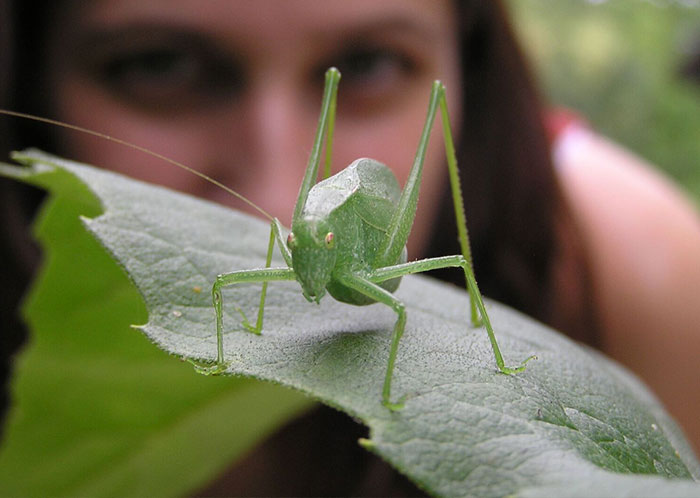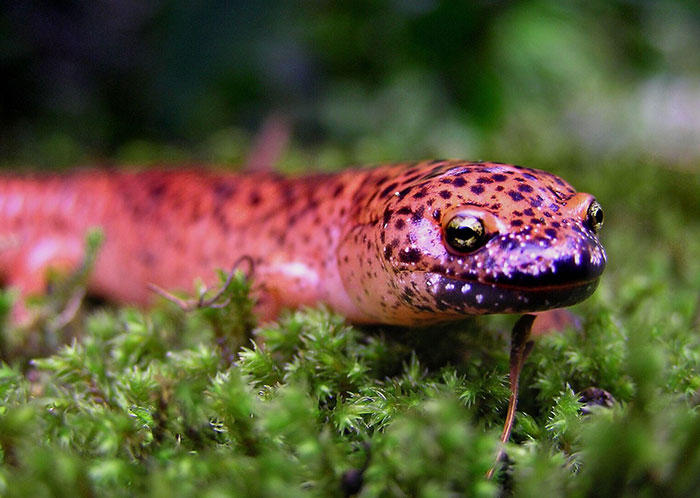 Botanical Tour Topics
Garden Invaders
Learn to identify and remove non-native invasive species from your garden and the surrounding forest landscape.
Pollinators and the Plants that Need and Feed Them
Explore the Garden with an eye for native wildflowers and their pollinators. This tour is family friendly and fun.
Carnivores of the Bog Garden
Learn the eating habits and trapping methods of southern Appalachian carnivorous plants, where you can find them, and why they are important.  This tour is very kid friendly!
Wicked Plants
Learn which plants are toxic and what parts of the plant can harm you, then round out your knowledge with the history and folklore behind these plants.
Five Senses in the Garden
We all know that a garden can be pleasing to the eye, but what about our other senses?  Explore the garden using the full gamut of your sensory receptors. How can you incorporate texture, scent and the sounds of rustling leaves into your garden and experience the natural world in a new, expansive way.
Interpretive guided tours for private groups are also available throughout the year and can be arranged by appointment. They are free of charge, but donations are always appreciated. Talks on various botanical topics are also available to local garden clubs and other adult organizations. 
To schedule either a tour or a talk, contact our Horticulturist at 828.526.0188 or the Nature Center at 828.526.2326.
Volunteering in the Garden
Our volunteer program includes diverse opportunities spanning a wide array of interests and abilities. To learn more about volunteering at the Highlands Biological Station, call  828-526-2602.
Native Plant Rescue
The Highlands Botanical Garden is a collaborator with the Land Stewards of the Highlands Plateau, the conservation arm of the Laurel Garden Club.  The mission of the Land Stewards is to promote responsible land stewardship and preservation of native plant species through education and community service.  We are currently in the process of developing new facilities for the propagation of native plants from local sources, as well as participating in rescues of native plants from local development.  Other local collaborators include the Highlands-Cashiers Land Trust and Chattooga Gardens, Ltd.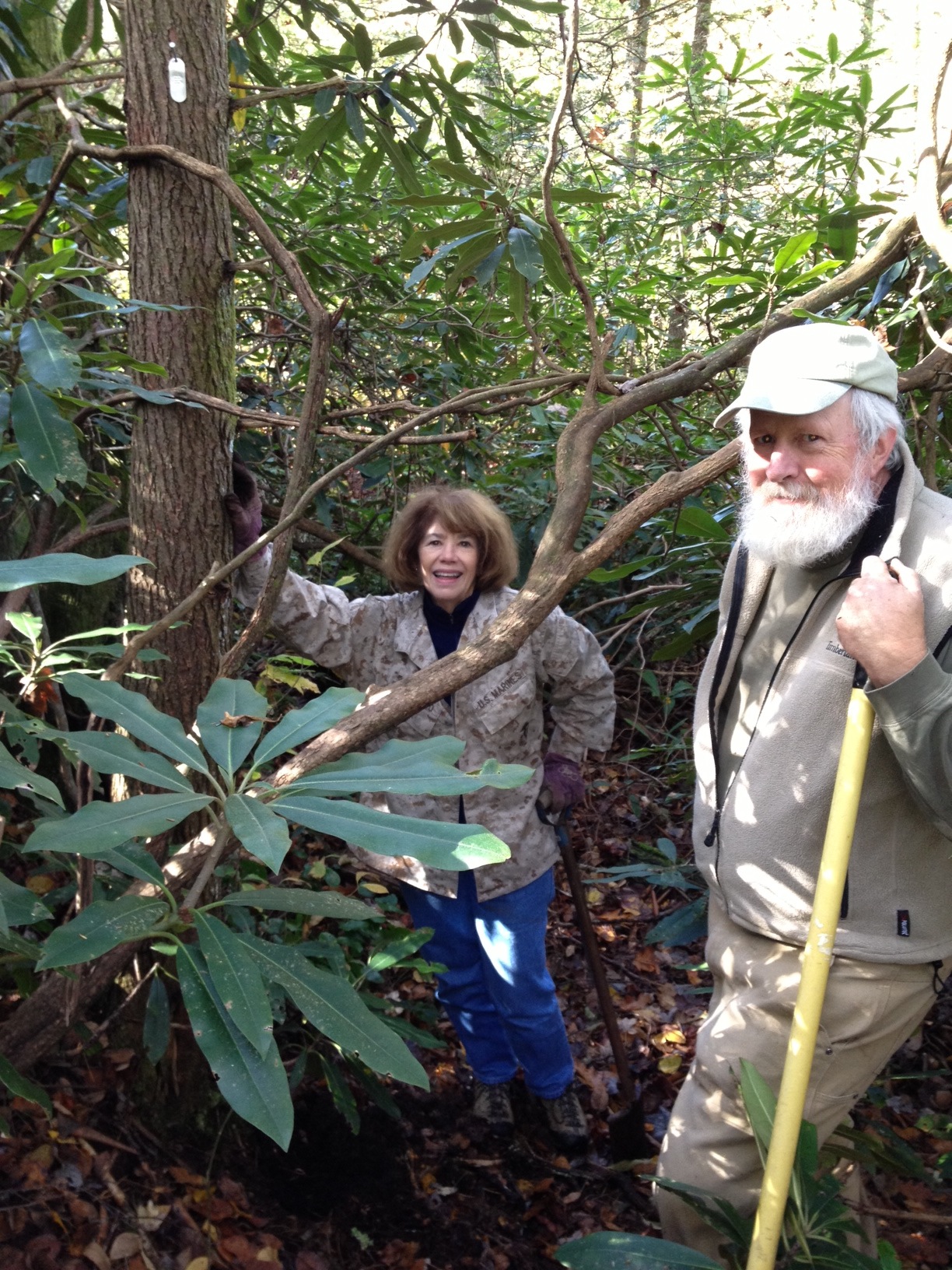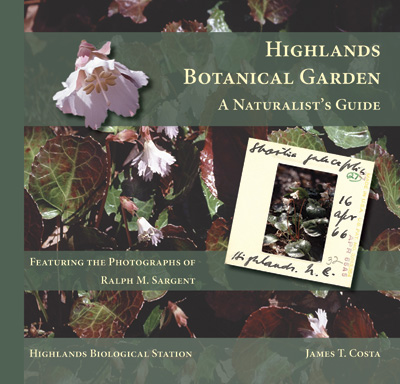 A Naturalist's Guide
Pick up a copy of our book Highlands Botanical Garden: A Naturalist's Guide to make the most of your visits and get to know native plants more intimately: the back story to their names and discovery, pollinators and other partners, medicinal and craft uses, and more!
Featuring the photographs of Ralph M. Sargent, a founder and ardent champion of the Highlands Botanical Garden, A Naturalist's Guide is the first-ever guide to the garden, with maps, historical overview, and profiles of a generous selection of its hundreds of native plants. Not so much identification guide as botanical celebration, this commemorative Botanical Garden volume introduces readers to little-known aspects of our native plants, from the backstory to their names to their ecology and natural history.
This book is a must for the botanically curious and is also a great way to support the Highlands Biological Station and Foundation.
$30.00 plus shipping.
To Purchase: call 828.526,2221 to order or email charlotte@highlandsbiological.org.