2022 Zahner Conservation Lectures:
Several lectures are available to view virtually via YouTube.  Links for each of these are available in the lecture descriptions below.
Get to know our 2022 featured speakers by clicking HERE.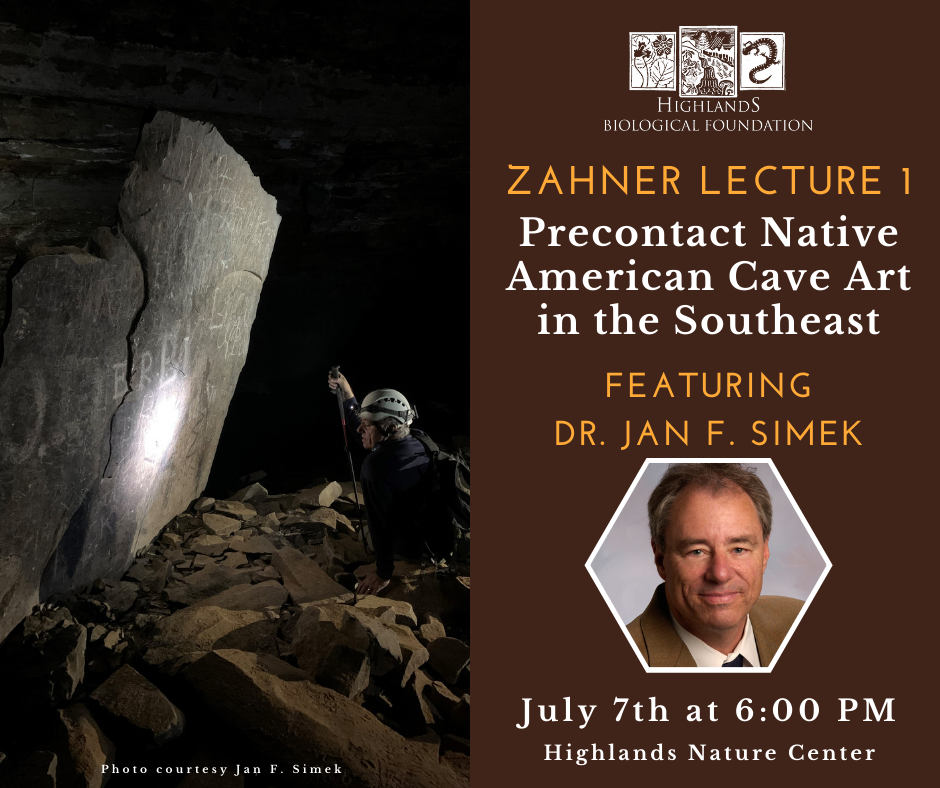 Lecture 1 - Precontact Native American Cave Art in the Southeast
Featured Speaker: Dr. Jan F. Simek, Distinguished Professor of Science and President Emeritus, Department of Anthropology, University of Tennessee-Knoxville
Date: Thursday, July 7th
Time: 6pm – 7pm
Cost: FREE
Sponsored by Kathy & Bestor Ward.
The indigenous peoples of the Appalachian region saw their homelands as sacred places, connected to the spiritual world at every turn. In nearly 100 caves in the region, they made cave art to materialize some of those connections. This art has great antiquity, beginning some 7000 years ago and continuing into the historic period. This lecture will provide an overview of the ancient cave art of Appalachia and how it relates to both early and living Naïve American cultures in the region.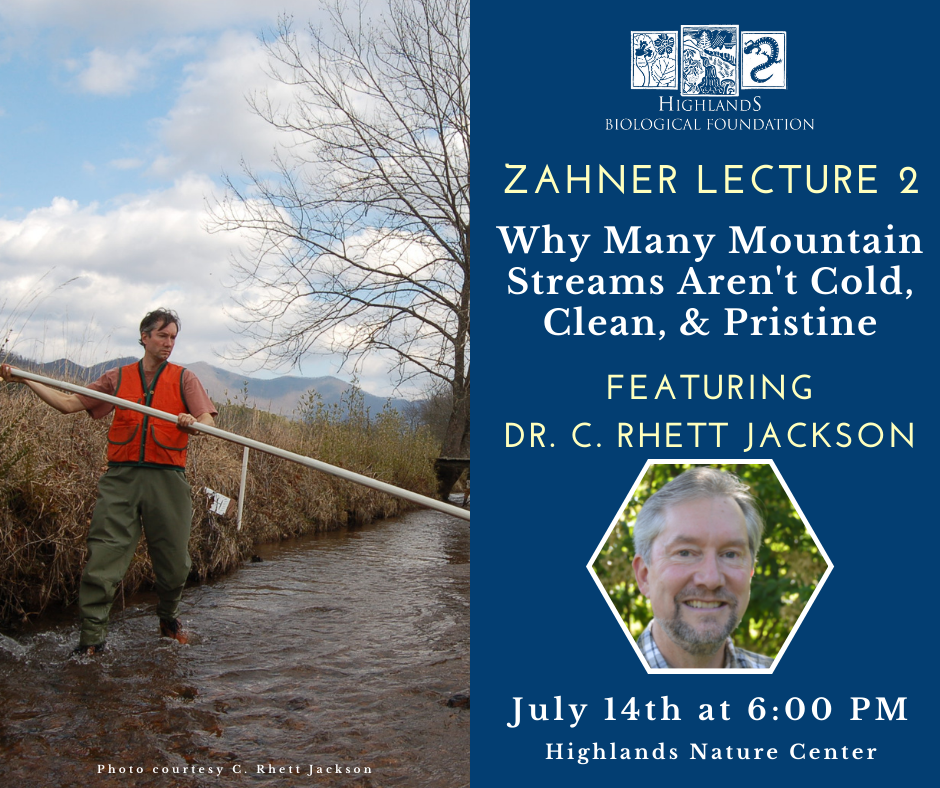 Lecture 2 - Unpaved Roads, Ditches, Missing Riparian Buffers, Fertilization: Why Many Mountain Streams Aren't Cold, Clean, and Pristine
Featured Speaker: Dr. C. Rhett Jackson, John Porter Stevens Distinguished Professor of Water Resources, Warnell School, University of Georgia
Date: Thursday, July 14th
Time: 6pm – 7pm
Cost: FREE
Sponsored by Kim and Rich Daugherty.
Low-density rural development in the Blue Ridge mountains has shifted rural valley streams from wide, complex, shady, cold, clear, litter-dependent systems to narrow, simple, well-lit, warm, turbid, nutrient-subsidized, algal-dependent systems. Consequently, fish, amphibian, and macroinvertebrate communities have become more like Piedmont communities. Application of known Best Management Practices previously developed for forestry and agriculture could greatly reduce water quality effects of low-density rural development, and riparian forest restoration could mitigate the effects of a warming climate. The question is how to promote and incentivize BMP application in multiple-use watersheds with few local tax resources.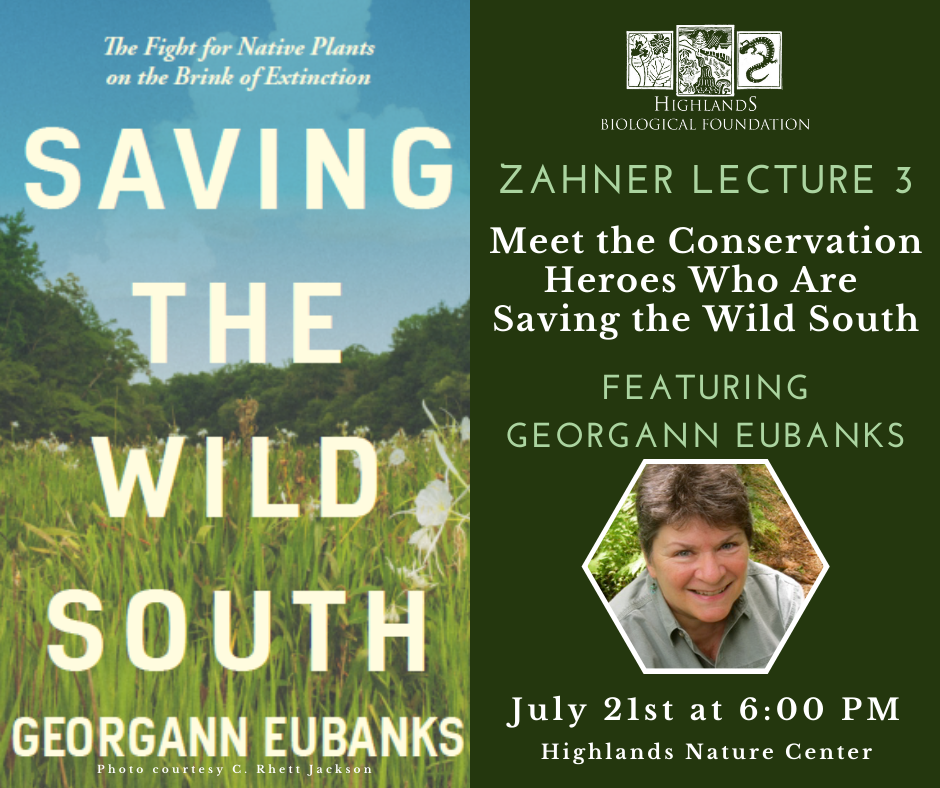 Lecture 3 - Meet the Conservation Heroes Who Are Saving the Wild South
Featured Speaker: Georgann Eubanks, Writer, Consultant, and Executive Director of the Paul Green Foundation
Date: Thursday, July 21st
Time: 6pm – 7pm
Cost: FREE
Sponsored by Miriam & Vernon Skiles and Mary Todd & Jimmy Davis.
The American South is famous for its astonishingly rich biodiversity. In her latest book, Saving the Wild South: Native Plants on the Brink of Extinction, Georgann Eubanks takes a wondrous trek from Alabama to North Carolina to search out native plants that are endangered and wavering on the edge of erasure. Even as she reveals the intricate beauty and biology of the South's plant life, she also shows how local development and global climate change are threatening many species, some of which have been graduated to the federal list of endangered species. Why should we care, Eubanks asks, about North Carolina's Yadkin River goldenrod, found only in one place on earth? Or the Alabama canebrake pitcher plant, a carnivorous marvel being decimated by criminal poaching and a booming black market? These plants, she argues, are important not only to the natural environment but also to southern identity, and she finds her inspiration in talking with the heroes—the botanists, advocates, and conservationists young and old—on a quest to save these green gifts of the South for future generations.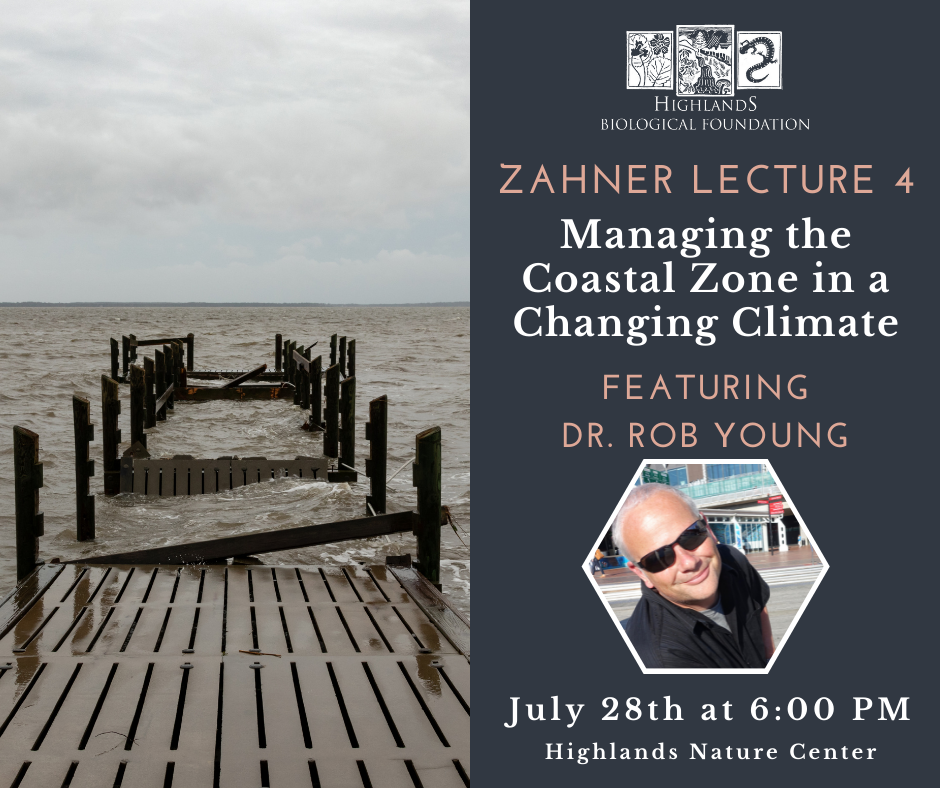 Lecture 4 - Managing the Coastal Zone in a Changing Climate: Everything We Are Doing Is Wrong
Featured Speaker: Dr. Rob Young, Director, Program for the Study of Developed Shorelines, Western Carolina University
Date: Thursday, July 28th
Time: 6pm – 7pm
Cost: FREE
Sponsored by Karen Patterson.
Coastal Geologist Rob Young will explore how climate change is impacting the coastal environment and coastal development in the USA. He will also discuss the grand failure of government at all levels to act on the crisis in an organized and sensible way. Instead, we have disorganized programs that cost taxpayers billions while failing to address community vulnerability and degrading the coastal environment.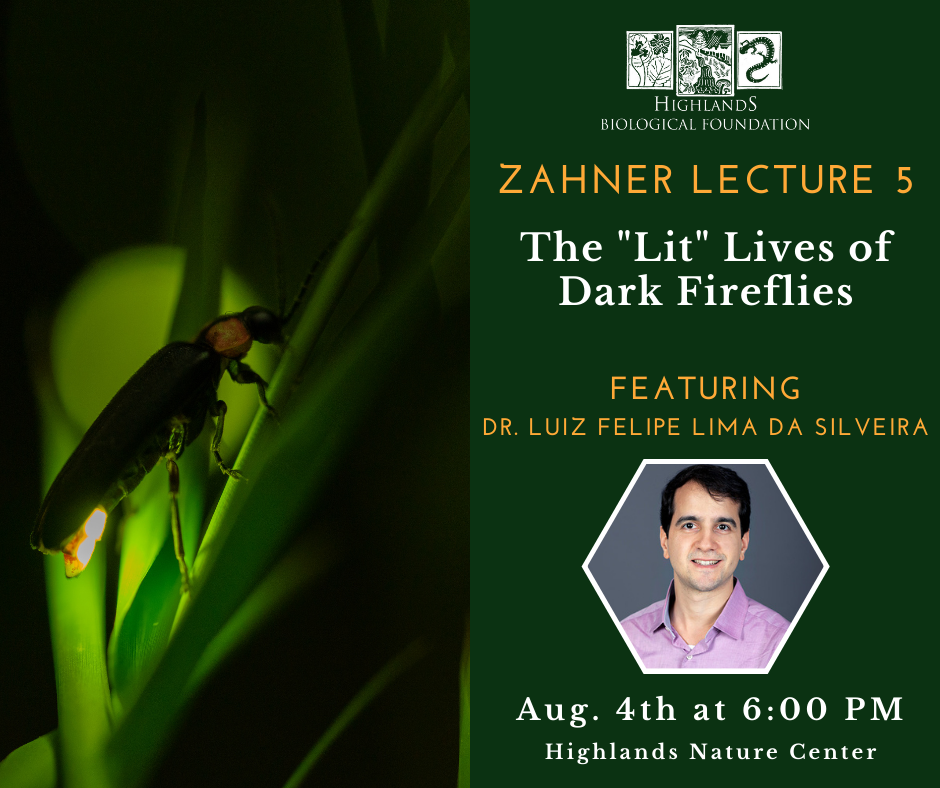 Lecture 5 - The "Lit" Lives of Dark Fireflies
Featured Speaker: Dr. Luiz Felipe Lima da Silveira, Assistant Professor, Western Carolina University
Date: Thursday, August 4th
Time: 6pm – 7pm
Cost: FREE, no registration necessary
Sponsored by Suzanne & Don Duggan, Julie Farrow, Florence & Tom Holmes, Ruthie & Franko Oliver, and Adele & Nick Scielzo
Fireflies are usually remembered for their light signals, which can be readily seen in our region as the Summer approaches. Male and female fireflies may use light signals to find and choose partners. However, many – if not most – firefly species do not rely on light signals for reproduction. Instead, the so-called dark fireflies rely more heavily on airborne chemicals, the pheromones. Yet, the lack of light signals does not mean that their sex lives is less "lit". On the contrary, dark fireflies display an amazing array of reproductive strategies, which are mirrored in their diverse male and female morphologies. In my talk, I will present basic aspects of firefly reproduction, with emphasis on putative cases of sexually selected traits of dark fireflies.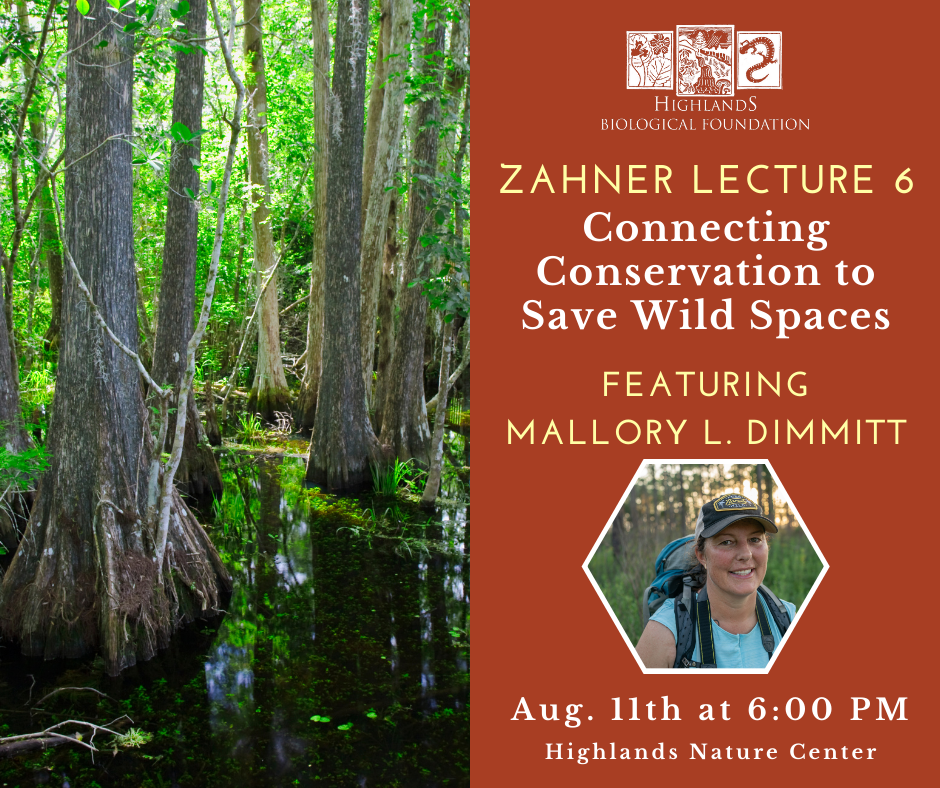 Lecture 6 - Connecting Conservation to Save Wild Spaces: A Benefit to Flora, Fauna, and Economies
Featured Speaker: Mallory L. Dimmitt, Chief Executive Officer of the Florida Wildlife Corridor Foundation
Date: Thursday, August 11th
Time: 6pm – 7pm
Cost: FREE
Sponsored by Kathleen & Jim Milby.
In this talk, Mallory Dimmitt introduces a collaborative advocacy approach to large-scale landscape conservation. Mallory will dive into methods used for connecting high quality habitat through wildlife corridors, and the positive impacts they provide for ecosystems and economies with emphasis on the accomplishments made in Florida and throughout the global corridor movement.
To learn more about the Florida Wildlife Corridor, click HERE.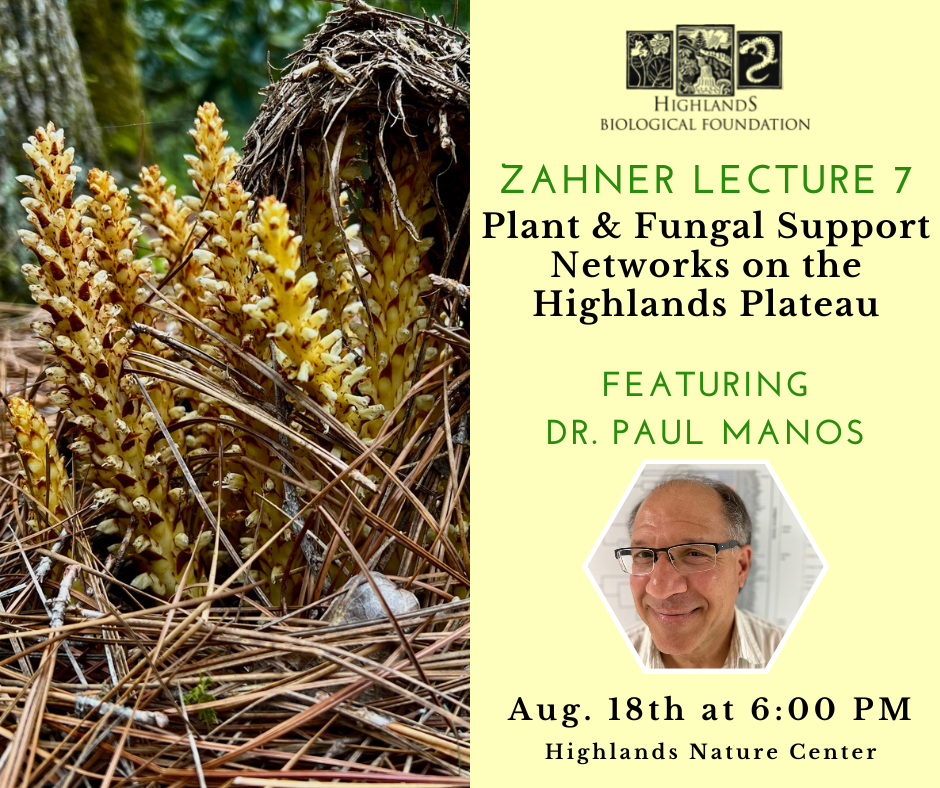 Lecture 7 - The Hitchhiker's Guide to Biological Dependency: Plant and Fungal Support Networks on the Highlands Plateau
Featured Speaker: Dr. Paul Manos, Professor of Biology, Duke University
Date: Thursday, August 18th
Time: 6pm – 7pm
Cost: FREE
Sponsored by Dollie Swanson.
Several common plant species on the Highlands Plateau display unusual forms and habits. These phenomena send signals to even the casual observer that something different is going on here. But what? A deeper dive reveals ancient support networks with consequences that will alter your perception of basic plant structure and function, both below and above ground.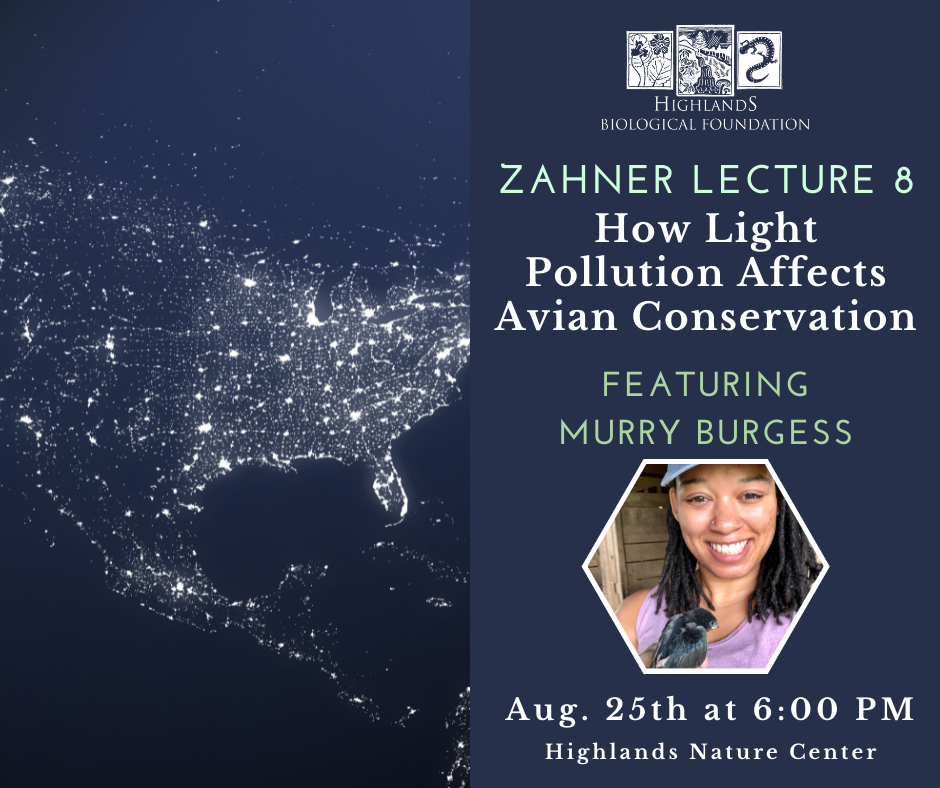 Lecture 8 - A Light in the Dark: How Light Pollution Affects Avian Conservation
Featured Speaker: Murry Burgess, Urban Ecologist, North Carolina State University
Date: Thursday, August 25th
Time: 6pm – 7pm
Cost: FREE
Sponsored by Anonymous and Vicki & Donny Ferguson.
Light pollution impacts birds on all levels, including migration, reproduction, metabolism, and development. Most of the problems that light pollution causes start with a lack of sleep and can lead to more serious conditions like cancer, diabetes, and heart disease – for both wildlife and humans! This talk covers light pollution, its sources, its impact on birds and humans, and – most importantly – what we can do to mitigate these consequences.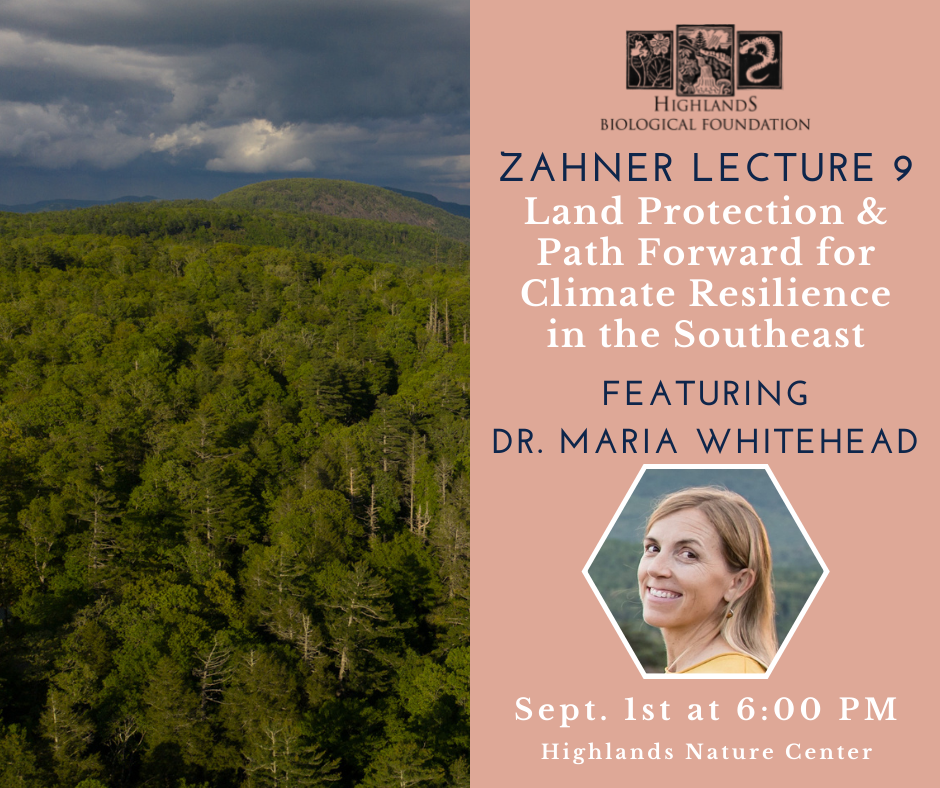 Lecture 9 - Land Protection and Path Forward for Climate Resilience in the Southeast
Featured Speaker: Dr. Maria Whitehead, Vice President and Director of Land, Southeast, Open Space Institute
Date: Thursday, September 1st
Time: 6pm – 7pm
Cost: FREE
Sponsored by Martha & Michael Dupuis, Monte & Palmer Gaillard, and Melanie & Tom Mauldin.
Conservationists are faced with a new reality in this changing climate. Indeed, today, climate change is the lens through which we view all of our work. This lecture will explore some of the challenges faced by conservationist, tools for addressing those challenges, and how natural solutions to climate change may increase resilience for both natural and human communities.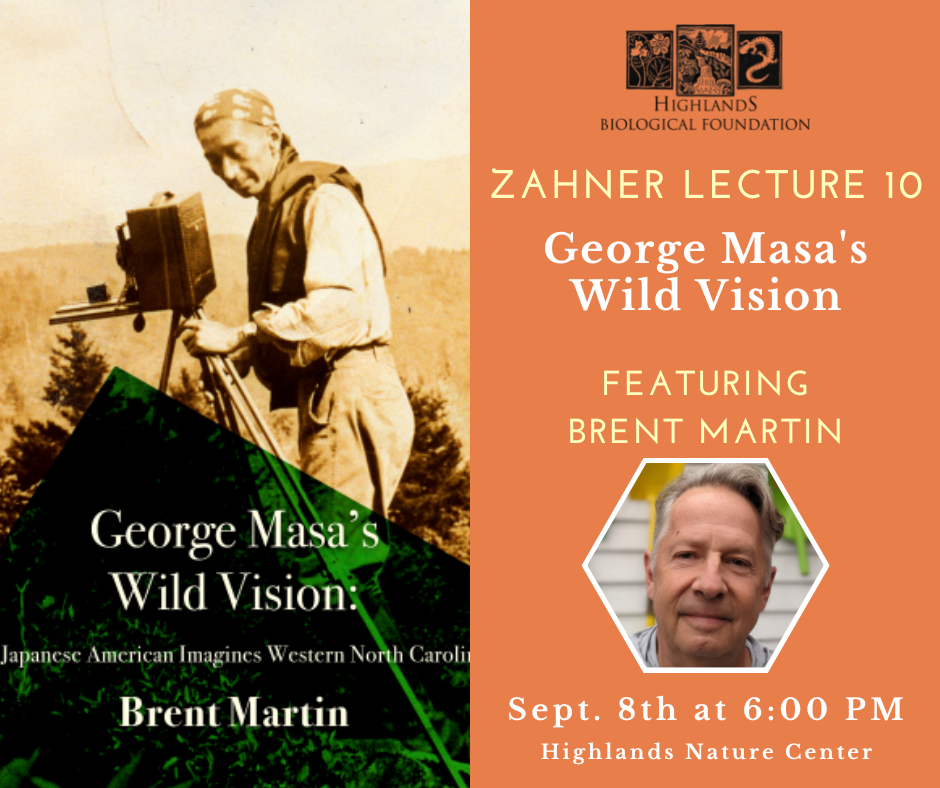 Lecture 10 - George Masa's Wild Vision: A Japanese Immigrant Imagines Western North Carolina
Featured Speaker: Brent Martin, Executive Director, Blue Ridge Bartram Trail Conservancy
Date: Thursday, September 8th
Time: 6pm – 7pm
Cost: FREE
Sponsored by an anonymous supporter.
In this lecture, Brent Martin will present on the photography and life of early 20th century Japanese immigrant, Masahara Izuka, aka George Masa. Masa's stunning photographs of the southern Appalachians were used to promote the creation of the Great Smoky Mountains National Park, Mt. Mitchell State Park, the Appalachian Trail, the town of Highlands, and much more.
George Masa's Wild Vision: A Japanese Immigrant Imagines Western North Carolina is available for purchase at the Highlands Nature Center's gift store.