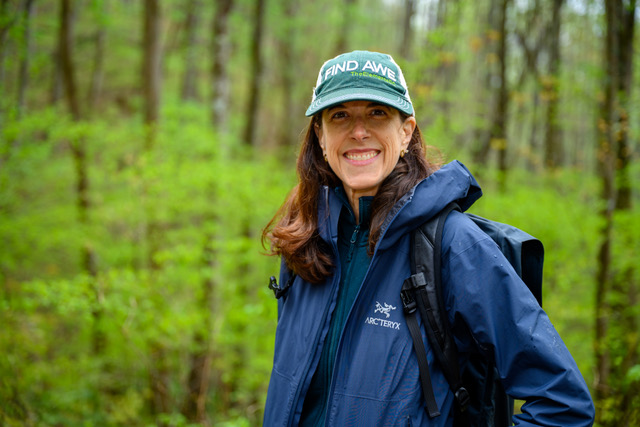 2023 Carpenter Lecture with Florence Williams
Your Brain on Nature: Why Being Outside Makes Us Feel Happier, Healthier, and More Creative
Wednesday, October 11th at 11:00 AM
Location: The Bascom: Center for the Visual Arts (323 Franklin Road, Highlands, NC)
FREE   |   Reception to follow  |  Registration required
This event is FULL, and our waitlist is now full.
We thank you so much for your interest in this event and hope you will stay tuned for more upcoming programming with HBF.
Embark on an enchanting journey into the world of nature to explore the deep connection between the great outdoors and our well-being. This October, join the Highlands Biological Foundation (HBF), in partnership with The Bascom, for their biennial Carpenter Lecture community program. Established in honor of Sonya Carpenter, former director of HBF, the Carpenter Lecture series aims to educate our community about the environment while inspiring stewardship of the natural world.
This year's program will feature acclaimed author Florence Williams as she presents "Your Brain on Nature: Why Being Outside Makes Us Feel Happier, Healthier, and More Creative". Williams, a renowned journalist, author, and podcaster, will grace the stage to present the latest scientific evidence supporting the positive impact of nature on our lives, from cognition to mental health. Drawing on extensive research from around the globe, from Japan to Scotland to Singapore to Utah, Williams will share profound insights into how immersing ourselves in nature can transform our brains and physiologies.
Curious minds will be treated to an engaging exploration of what constitutes exposure to nature and the optimal dosage for reaping its full benefits. Williams will delve into the intriguing topic of doctors and patients "medicalizing" time in parks, shedding light on the emerging trend of incorporating nature-based therapies into medical treatments. What she has learned throughout her studies holds many lessons for interacting with the natural world in good times and bad.
Following the talk, attendees will have the opportunity to engage with Williams during a small reception and book signing. Don't miss the chance to obtain signed copies of her two captivating books, The Nature Fix and Heartbreak: A Personal and Scientific Journey (see below).