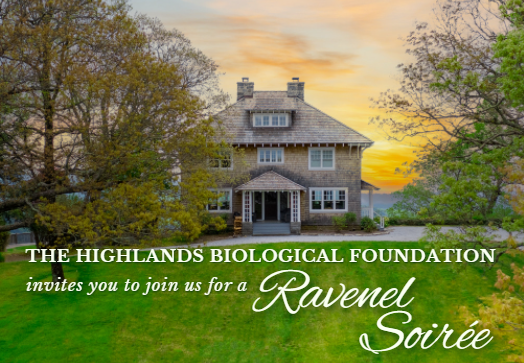 A Ravenel Soirée
Monday, July 18th, 2022 at 6:00 p.m.
Join HBF for our biggest annual fundraiser on Monday, July 18th from 6:00 p.m. until dark as we raise money in support of our mission of stimulating and promoting biological research and education in the southern Appalachians.
This year, the festivities will be held at the enchanting, historic Ravenel property co-owned by Diane and Ray McPhail and Karen and Will Stolz.  Formerly known as Wolf Ridge, this home was built by the Ravenel family in 1913. The Ravenels have a deep history in Highlands and are well known for donating Sunset Rock to the town in 1914. Along with the historic home, the property boasts spectacular mountain views. The event's proceeds will benefit HBF as we work to educate our community about the unique biodiversity of the Highlands Plateau.
For more information about HBF's Ravenel Soirée fundraising event, please call the HBF office at (828) 526-2221.
Please note that parking is limited for this event, so a shuttle service will be provided from Highlands School (545 Pierson Dr).
Tickets $250 per guest.
Special thanks to our soir
é

e
Host Committee:
Tricia and Inman Allen
Judy and Dick Allison
Elizabeth Bradham
Vevie and Lawrence Dimmitt
Martha and Michael Dupuis
Ruth and Berryman Edwards
Melinda and Jim Ethier
Cathy and Bob Fisher
Anne and Dick Goodsell
Lindy and Robbie Harrison
Marianne and Ben Jenkins
Cathy and Paul Jones
Cookie and Harrison Jones
Frank Langford
Lucy and Hans Luquire
Elizabeth and David Martin
Jennifer and Forrest McConnell
Heath Massey and John Mitchener
Kathleen Cheek-Milby and Jim Milby
Stephanie and Bill Reeves
Emilie and Bruce Reid
Rachel Friday and Jeff Schenck 
Lyda White and Art Steineker
Carol and Rusty Stewart
Martha and Hal Stibbs
Jennie Stowers
Susan and Charley Tarver
Kathy and Bestor Ward
Berkshire Hathaway HomeServices – Meadows Mountain Realty
Peachtree Hills Place