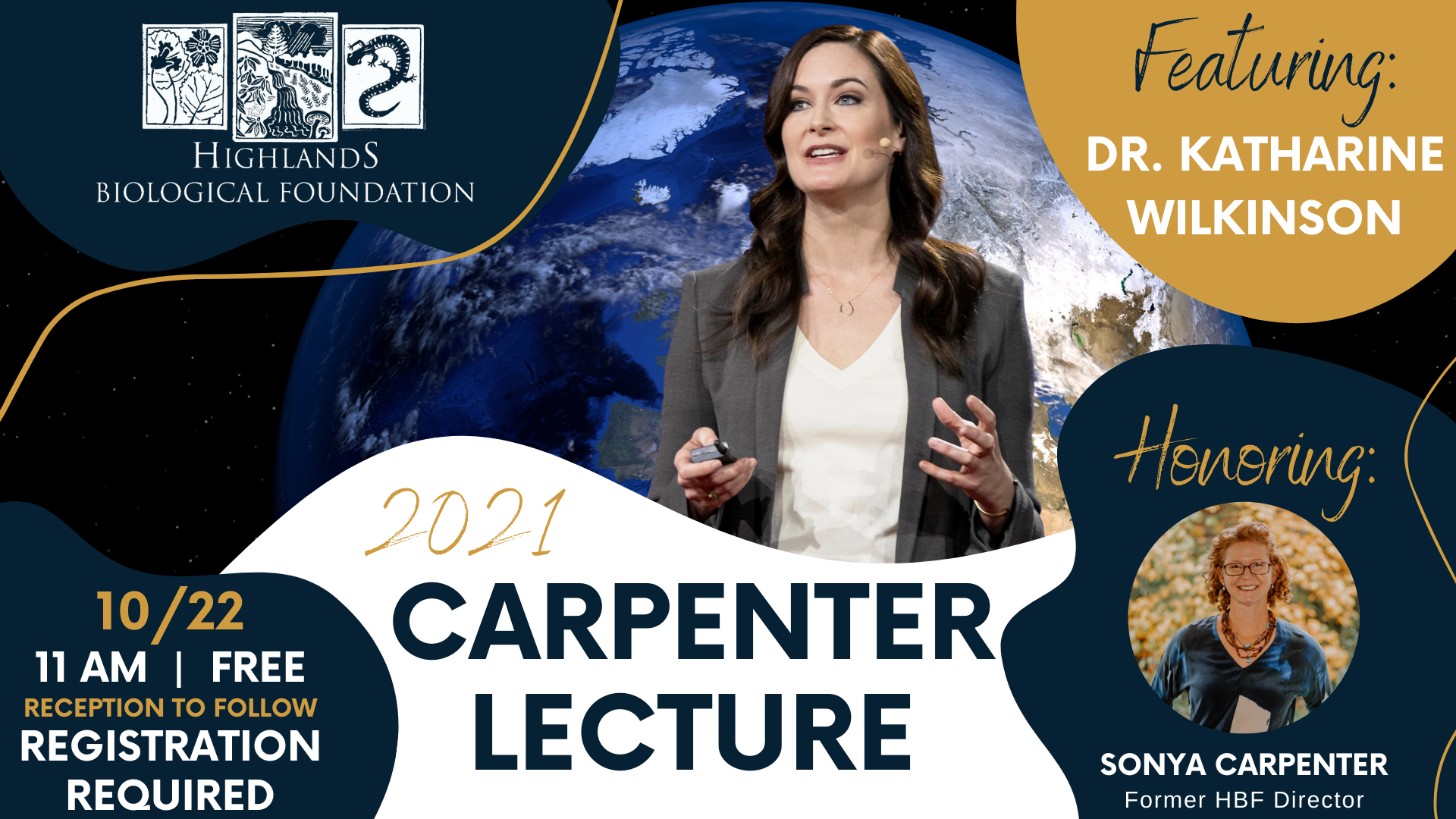 2021 Carpenter Lecture with Dr. Katharine Wilkinson
Friday, October 22nd at 11:00am
Location: First Presbyterian Church of Highlands (471 Main St, Highlands, NC 28741)
FREE   |   Reception to follow.   |   Masks required inside.
This is event is free, however, registration is required. Click HERE to reserve your spot today!
Up to 50 individuals can join the lecture via Zoom! Click HERE to reserve your virtual spot today.
The Highlands Biological Foundation is thrilled to announce a new community event – Our inaugural "Carpenter Lecture" will take place Friday, October 22nd featuring renowned author, strategist, and teacher, Dr. Katharine Wilkinson (pictured). The Carpenter Lecture series honors HBF's former director, Sonya Carpenter. Sonya led HBF for nearly 10 years & grew our organization and expanded our accomplishments immensely. As Highlands residents know, Sonya is a passionate advocate for the natural world with a focus on educating our community about the world around us, so join us for this free community event in her honor!
Learn about our very first Carpenter Lecturer, Dr. Katharine Wilkinson, and some of her work:
Dr. Katharine Wilkinson is an author, strategist, teacher, and one of 15 "women who will save the world," according to Time magazine. Her books on climate include the bestselling anthology All We Can Save, The Drawdown Review, the New York Times bestseller Drawdown, and Between God & Green. Dr. Wilkinson co-founded and leads The All We Can Save Project with Dr. Ayana Elizabeth Johnson, in support of women leading on climate, and she co-hosts the podcast A Matter of Degrees, telling stories for the climate curious with Dr. Leah Stokes. Previously, Dr. Wilkinson was the principal writer and editor-in-chief at Project Drawdown. She speaks widely, including at National Geographic, Skoll World Forum, and the United Nations. Her TED Talk on climate and gender equality has more than 1.9 million views, and Apolitical named her one of the "100 most influential people in gender policy." A homegrown Atlantan, Dr. Wilkinson holds a doctorate in geography and environment from Oxford, where she was a Rhodes Scholar, and a BA in religion from Sewanee, where she is now a visiting professor. She is happiest on a mountain or a horse. Find her @DrKWilkinson.
Keep the Conversation Going – Join HBF's Book Club Today!
Interested in learning how you can combat climate change? This fall, HBF is hosting the 2nd season of their virtual book club by delving into the book All We Can Save (2020), edited by Drs. Ayana Elizabeth Johnson and Katherine K. Wilkinson. Each week, the club will cover a selection of essays and poems by women leaders at the forefront of the climate movement. Then, members will also put these leaders' messages into action by discussing how they can tackle climate change themselves. Join the book club to see what impact you can make as well!
Thursday evenings; Sept. 30th – Nov. 18th   |   4 p.m. to 5 p.m.
No prior knowledge about climate change, climate science, or solutions is necessary. HBF welcomes everyone who is interested and will have up to 20 fellow readers!
If you're interested in participating, please contact paige@highlandsbiological.org.
For more information, click HERE or call (828) 526-2623.